A large number of dermatologists may also recommend using zinc pyrithione for seborrheic dermatitis. Zinc pyrithione is another anti-fungal agent most commonly available in commercial shampoo formulations.
Zinc pyrithione shampoos can be found in most drug stores and super markets in North America. Soaps, creams, and lotions that integrate zinc pyrithione are more difficult to find, but are available for purchase without prescription.
Products that integrate zinc pyrithione typically do so at a 1% concentration. Yet, products that implement a higher 2% concentration are also available.
Who funds most of the research behind zinc pyrithione?

A large part of the research on zinc pyrithione has been conducted or sponsored by Proctor and Gamble (the parent company behind Head and Shoulders).
How Zinc Pyrithione is Believed to Relieve Seborrheic Dermatitis
The main mode of action of zinc pyrithione for seborrheic is believed to be associated with it's antifungal activity [1].
Lab (in vitro) testing has demonstrated its ability to effectively destroy various malassezia fungal species and inhibit their reproduction [2]. And the majority of researchers attribute it's effectiveness to this property.
In addition to its antifungal activity, zinc pyrithione may improve scalp healing by normalizing the outer-layer of skin tissue and normalizing sebum production. These characteristics may in fact be of equal or perhaps even greater importance than the antifungal activity alone [3].
An Alternate Less Discussed Possible Method of Action
Some studies also suggest that zinc pyrithione's effectiveness may actually be a result of it's general toxicity to living cells [4].
More specifically, it has been shown to:
Induce heat shock response gene expression (produced by cells in response to exposure to stressful conditions) and impair genomic integrity [5]
Induce cellular zinc overload, up-regulate stress response gene expression in keratinocytes, and result in genomic destabilization [6]
What are keratinocytes?

Keratinocytes are unique skin cells which are responsible for keratin production. They are believed to play a major role in seborrheic dermatitis progression [7].
Thus, perhaps it's effectiveness may simply be of the genetic disruptions it causes in the outer layer of the skin and not it's antifungal effects.
How Does Zinc Pyrithione Compare with Ketoconazole
Many creams are currently available on the market that contain zinc pyrithione. Much of which are specifically marketed for the control of seborrheic dermatitis and dandruff.
Despite this fact, the majority dermatologists and medical professionals do not often prescribe or recommend it. And there appears to be a general preference for the azole group of medications.
This preference seems to stem from the clinically documented higher efficiency of these medications for treatment of pervasive seborrheic dermatitis.
One of the most influential research papers comparing zinc pyrithione 1% to ketoconazole 2% for the treatment of seborrheic dermatitis showed zinc pyrithione to be less effective [1].
Practically all studies use a 1% zinc pyrithione concentration

Studies which compare zinc pyrithione to other antifungal agents typically use only a 1% concentration. At the time of this writing, there do not appear to be any studies which examine zinc pyrithione's effectiveness at the 2% concentration.
This study included 343 individuals affected by seborrheic dermatitis (but otherwise healthy) and examined treatment outcomes over a total period of 10 weeks (2 weeks pre-treatment, 4 weeks treatment phase and 4 weeks follow-up phase. And specifically compared the Nizoral brand of ketoconazole shampoo to the Head and Shoulders brand of zinc pyrithione shampoo.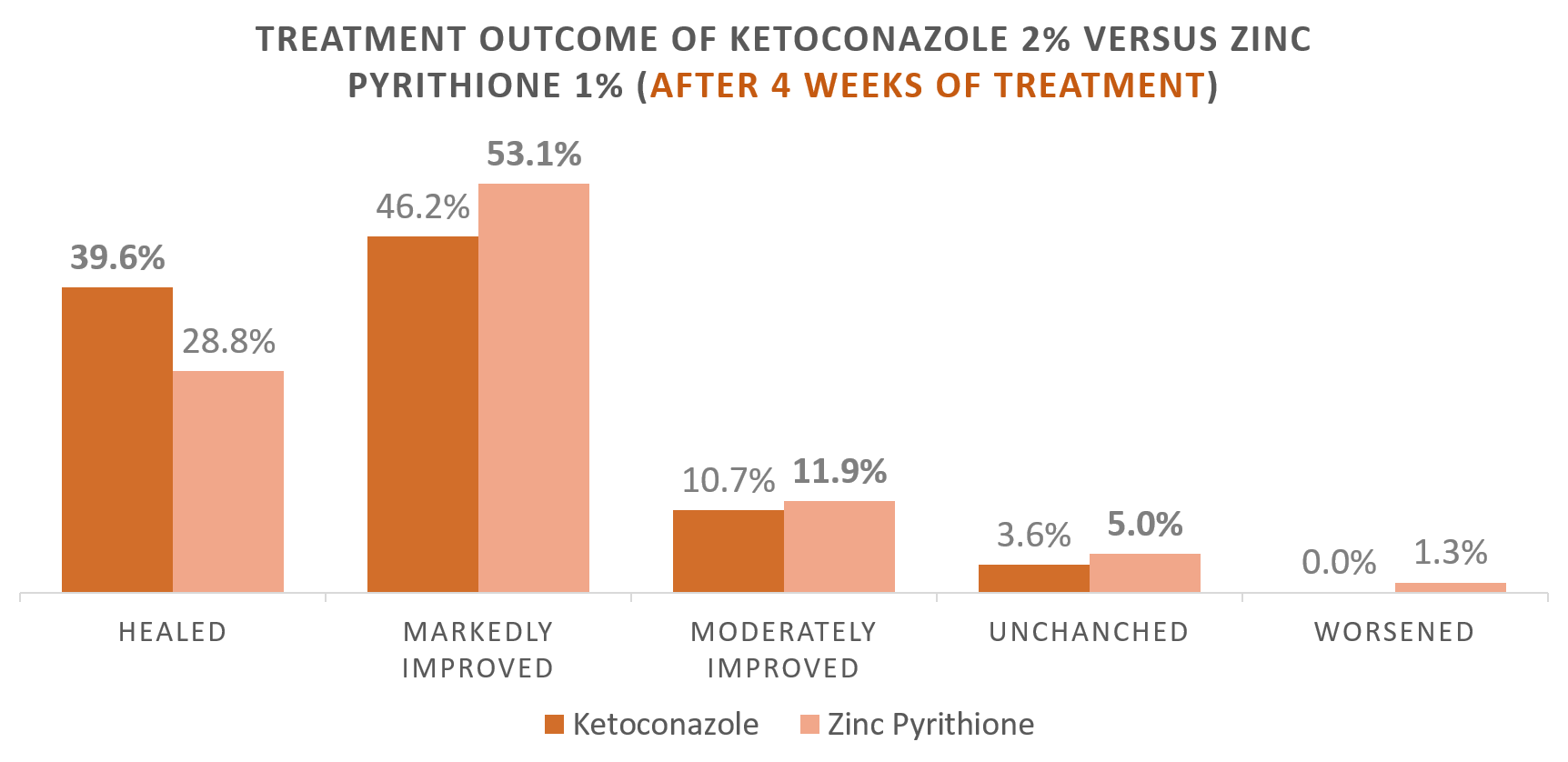 Zinc Pyrithione Safety
Zinc pyrithione's its anti-dandruff efficacy was first demonstrated in the 1960s. Since then, it has become the most common ingredient used for dandruff treatment globally [8].
The FDA has made specific restrictions on how much zinc pyrithione a product can actually contain. The current allowable concentration of zinc pyrithione products is currently 0.3% to 2.0%.
As discussed earlier, zinc pyrithione appears to cause toxicity to human skin cells (at the genetic level). Concentrations higher then those approved by the FDA are likely to amplify this property to an unsafe level and cause issues in normal skin cell production.
Adverse reactions caused by zinc pyrithione are fairly rare [1]. Adverse reactions may include severe redness or irritation of the skin, and worsening of the skin condition.
Section Summary
This section discussed some of the most important factors to consider when using zinc pyrithione for seborrheic dermatitis. Key points included:
Zinc pyrithione is the most common active ingredient used for dandruff treatment globally.

Most common at a 1% concentration in shampoo form, but creams, soaps and lotions are also available.

Lab testing has demonstrated its ability to suppress and destroy various malassezia fungus species.

Majority of researchers have attributed it's ability to relieve seborrheic dermatitis to it's antifungal properties.

Some researches have proposed that it's therapeutic potential may actually be caused by genetic disruptions to the outer layer of the skin.

2% ketoconazole appears to be a more widely recommended treatment for seborrheic dermatitis then 1% zinc pyrithione.

Reported adverse reactions are quite rare and it is generally considered safe for topical usage.