It's hard enough to find a good sunscreen, but finding one that does irritate and worsen seborrheic dermatitis is exponentially more challenging. The skin is already acting up and applying a thick layer of sunscreen on top just doesn't feel like it would be the best thing to do. Plus, as the skin barrier is damaged, the penetration of foreign materials is increased, increasing potential toxicity concerns.
This article is a compilation of my research on the topic and an effort to single out the types of sunscreen that should be most compatible. The goal isn't to focus so much on individual products, but review the fundamentals of sunscreen, it's benefits, the technology, and the characteristics that make for a good sunscreen for those of us with seborrheic dermatitis prone skin.
The writing is broken down as follows:
Hope you find the content useful and please let me know if you have any suggestions or questions in the comments section at the end.
What Sunscreen Does
Solar ultraviolet radiation is an established cause of melanoma. And melanoma is one of the most rapidly increasing cancers amongst the light-skinned population.
Melanoma is understood to be the result of malignant keratinocytes (skin cells) that are a by-product of UVR-induced DNA damage [1].
Sunscreen use is a possible way to decrease the risk of melanoma by reducing UVR induced DNA damage.
While previous studies failed to produce conclusive evidence [2], more recent studies do support the use of higher SPF (15 or above) sunscreen [3]. However, some confusion still remains and some authors have raised the question if sunscreen may give a false sense of security (giving people permission to spend far greater time in direct sun exposure), limiting the overall effectiveness of sunscreens [4]
Despite some remaining questions, most government health authorities recommend the use of sunscreen. For example, the Sunscreen Summit Policy Group of Australia and New Zealand recommend sunscreen be used any day that the outdoor UV index is 3 or above (basically for 5-6 months of the year in most countries) [5]. Strange enough, the recommendation is even in effect if no outdoor activities are planned.
Plus, a 2017 meta-analysis (a study that reviews all previous evidence) provides support for the potential benefits of reducing UVR induced DNA damage [6].
Current Sunscreen Technology
The sun emits three primary types of ultraviolet radiation: UVA (freely pass through the ozone layer), UVB (partially absorbed by the ozone layer, and UVC (absorbed by the ozone layer).
Prolonged exposure to UVA and UVB has been linked to a long list of negative effects on the skin (increased risk of melanoma, the formation of oxidants, DNA damage, protein damage, lipid damage, compromised immune function, and many more) [7, 8, 9].
The primary goal of sunscreen is to block this ultraviolet radiation from damaging the skin.
This is achieved into one of two ways:
Chemical (organic) filters: absorb the UV rays

Octyl methoxycinnamate
Octocrylene
Benzophenone-3
3-benzylidene camphor
Octocrylene

Physical (inorganic) filters: deflect the UV rays

Zinc oxide
Titanium dioxide
Irone oxide
Modern sunscreen formulations typically make use of several ingredients to achieve the widest range of UV protection (combining the individual properties of each type of filter).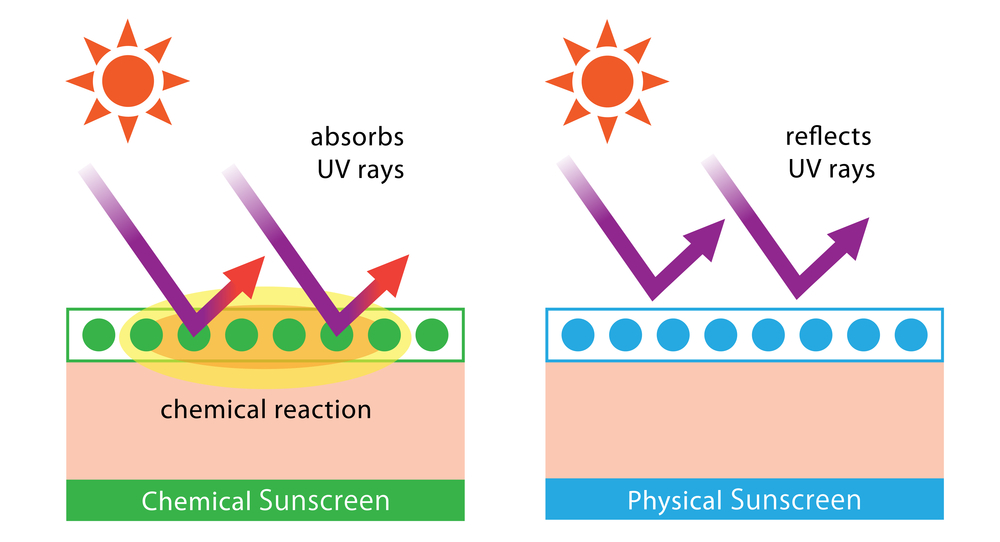 In addition to the active UV blocking agents, topically applied antioxidants have also shown some benefit in protecting against UV damage. Accordingly, some formulas also integrate various antioxidants:
Criteria for the Optimal Formula
When it comes to seborrheic dermatitis, there are a number of additional factors that should be considered when choosing a sunscreen.
The severity of seborrheic dermatitis symptoms provides a good visual representation as to the extent of barrier damage. The more damaged, the more prone the skin becomes to both absorption of topically applied agents and also more sensitive to potential irritants.

Sunscreens whose composition is simple/minimal and utilizes sunscreen agents with lowest toxicity/penetration concerns are preferred.
Chemical sunscreen agents have been shown to penetrate the skin much more freely then physical agents (such as zinc oxide). Meaning they have a better ability to enter our bloodstream and circulate throughout our body (even ending up in breast milk [19]). As a result, some researchers have put forward toxicity concerns and question whether or not their use is really beneficial or just a blessing in disguise [20].

As Malassezia appear to be an integral part of the symptoms, individual components of the sunscreen should not contribute to its reproduction.

Some sunscreen agents may provide the added benefit of being anti-fungal agents effective against Malassezia.
Zinc oxide appears to be a candidate [21] and it's effectiveness has been noted to be in direct relationship with it's particle size (as the particle size decreases, antifungal/antibacterial action increases) [22].
On the flip side, Malassezia furfur has been shown to produce a chemical compound by the name of pityriacitrin which itself provides significant UV protection [23, 24]. If anti-fungal therapy is used to reduce Malassezia activity, it's possible that the benefits provided by a well-rounded skin-microbiome are affected.
Quick review
The optimal sunscreen for seborrheic dermatitis prone skin should:
Provide sufficient UV protection
Low-irritation potential

Fragrance-free
Mild preservatives with a good track record
Not avobenzone based [27]

Low toxicity concerns
Possible anti-fungal benefits
Antioxidant support
Based on these criteria, a combination of zinc oxide and titanium dioxide as the active photoprotection agents:
A combination of zinc oxide and titanium dioxide has been noted to provide the most comprehensive UV protection [28]
Zinc oxide and titanium dioxide seem to have a strong safety record and some of the lowest toxicity concerns [20]
Zinc oxide nanoparticles have been shown to be antibacterial [29]
And these agents, as part of a simple fragrance-free formulation, containing a few antioxidants agents appears to be what we're after.
Additional favorable criteria:
Possible Candidates
Based on the above criteria, here is a list of mineral-based formulas that may be worth a shot. Though the order is not perfect, have made an attempt to list it in order of preference.
Thinkbaby Safe Sunscreen – SPF 50+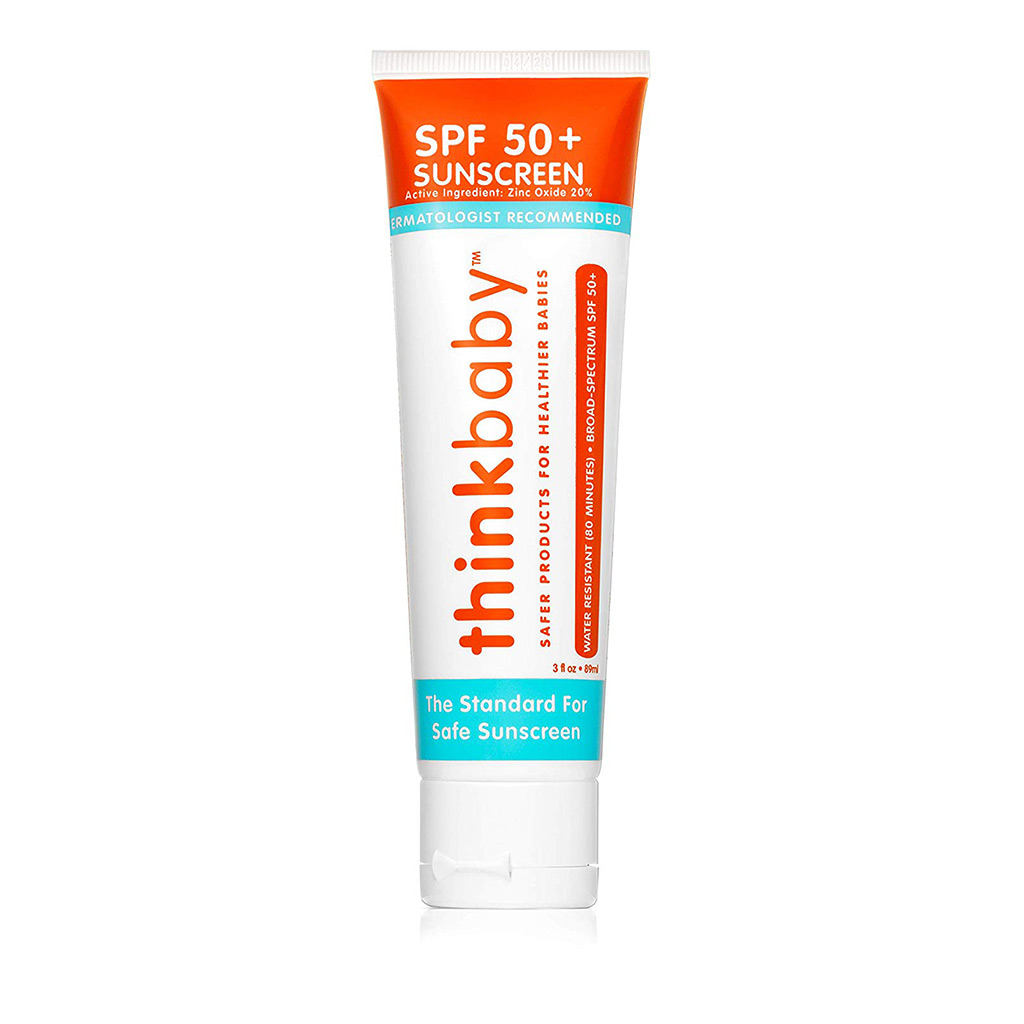 A simple formula that integrates natural oils and is likely to provide significant emollience (moisturization). While some may have concerns that the included oils may contribute to Malassezia growth, hard to say if this would really be an issue in the context of the overall formula (particularly the high zinc oxide concentration).
When compared to others, has the added benefit of both Vitamin E (tocopherols) and Vitamin C which have been included.
Zinc Oxide 20% (Non-Nano) Purified Water, Aloe Barbadensis Leaf Juice, Capric/Caprylic Triglycerides, Sorbitan Stearate, Methyl Abietate, Vegetable Glycerin, Cetyl Dimethicone, Hydrogenated Castor Oil, Magnesium Sulfate, Sunflower Oil, Jojoba Oil, Ascorbic Acid, Tocopherols , Olive Oil, Raspberry Seed Oil, Cranberry Seed Oil, Hyaluronic Acid, Glucose Oxidase, Lactoperoxidase, Papaya
Baby Bum – Fragrance Free – SPF 50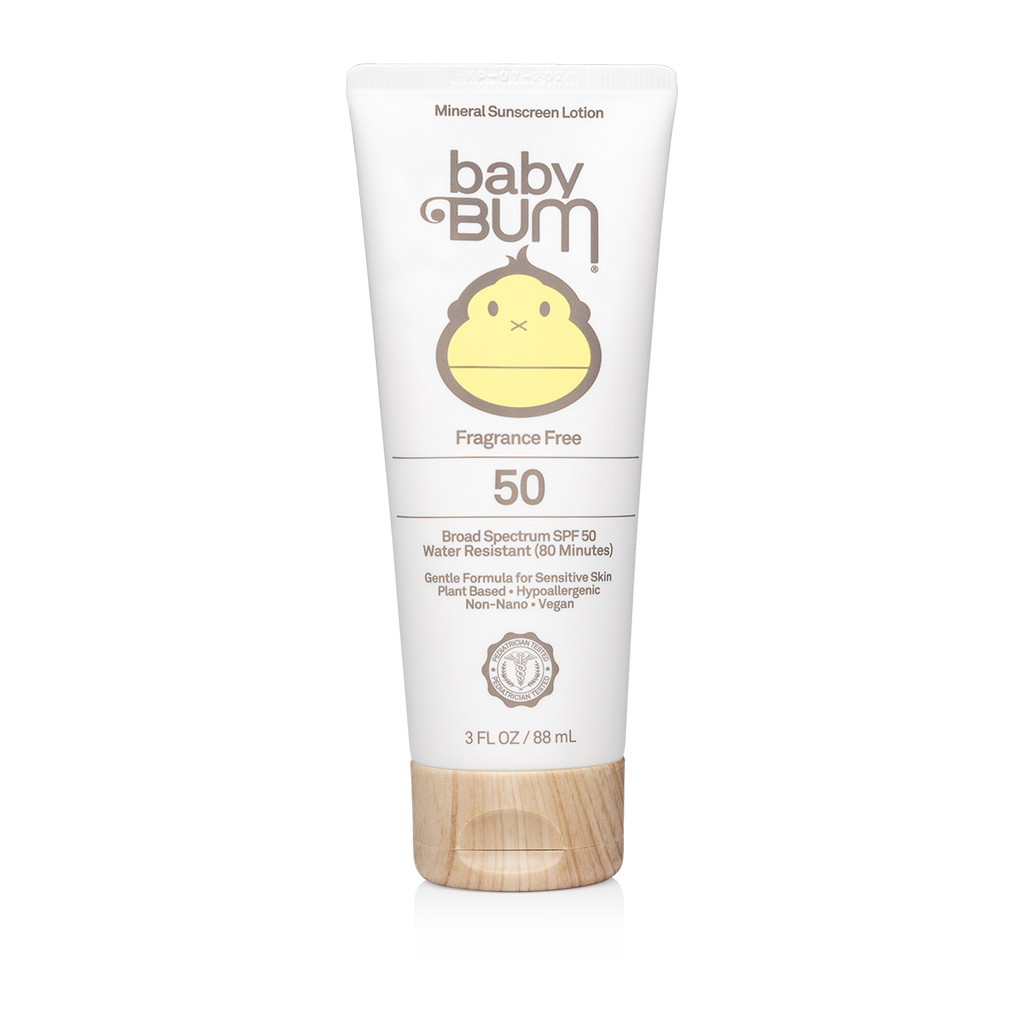 Another fairly simple formula that is likely to be less rich (more fluid) then the ThinkBaby option above. Again natural oriented formulation composition
Zinc Oxide (20%) Water, Cocos Nucifera (Coconut) Oil, Butyloctyl Salicylate, Diheptyl Succinate, Methyl Dihydroabietate, Butyrospermum Parkii (Shea Butter), Capryloyl Glycerin/Sebacic Acid Copolymer, Sodium Stearoyl Glutamate, Cetearyl Alcohol, Theobroma Cacao (Cocoa) Seed Butter, Sodium Hyaluronate, Bisabolol, Tocopherol, Coco-Glucoside, Microcrystalline Cellulose, Cellulose Gum, Cetyl Alcohol, Arachidyl Alcohol, Behenyl Alcohol, Arachidyl Glucoside, Polyhydroxystearic Acid, Sodium Gluconate, Phenoxyethanol, Ethylhexylglycerin, Citric Acid
Burt's Bees Baby – Nourishing Mineral Sunscreen – SPF 30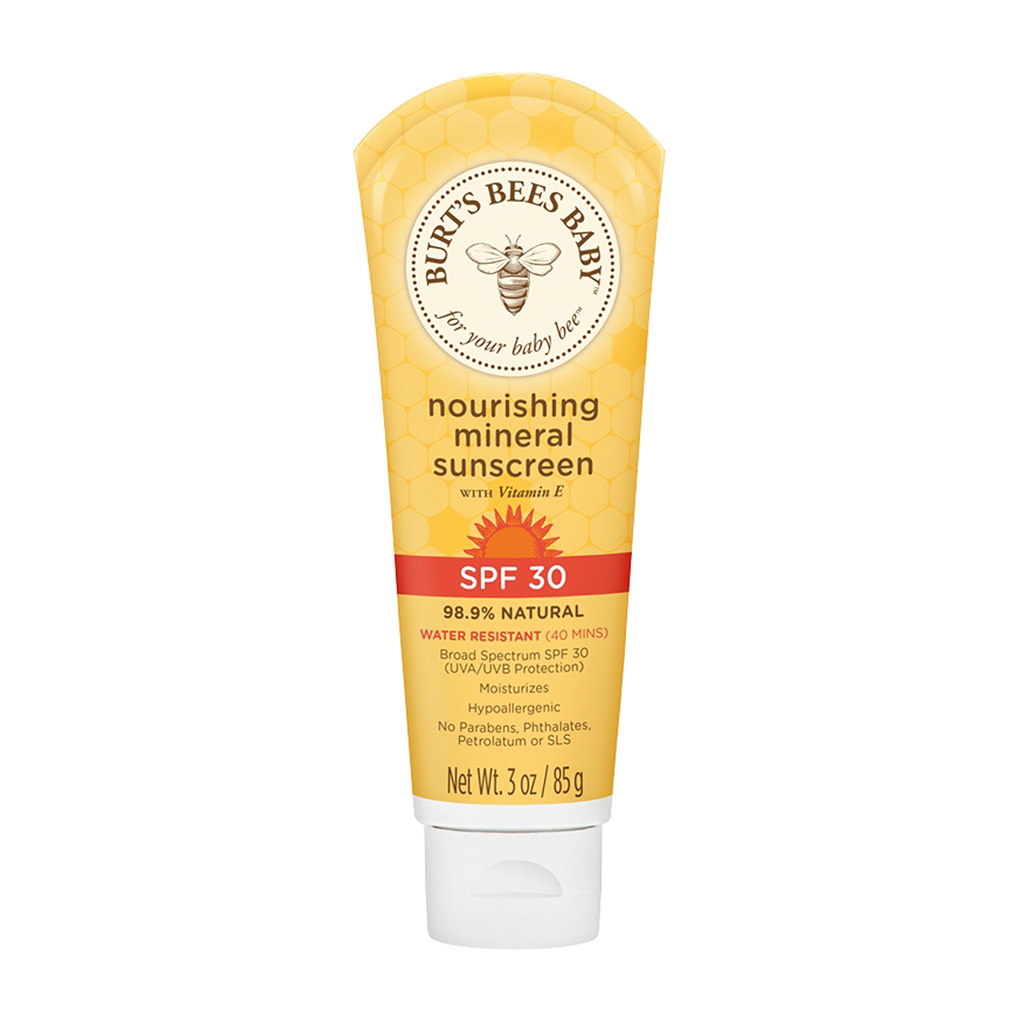 Slightly longer ingredients list than the two purely zinc oxide based options above. Yet, it's great to see the combination of both titanium dioxide and zinc oxide here for more robust UV protection.
As an added bonus, coffee extract is featured for the first time on this list (though hard to say if it's for scent or for its potential skin benefits).
Titanium dioxide 2.8%; Zinc oxide 13%. Water, dicaprylyl ether, carthamus tinctorius (safflower) oleosomes, caprylic/capric triglyceride, glycerin, beeswax, cetyl alcohol, nelumbo nucifera flower wax, phenoxyethanol, isostearic acid, polyhydroxystearic acid, alumina, lecithin, polyglyceryl-3 polyricinoleate, gluconic acid, lonicera japonica (honeysuckle) flower extract, sodium benzoate, stearic acid, lonicera caprifolium (honeysuckle) flower extract, sodium phytate, prunus armeniaca (apricot) fruit extract, pyrus malus (apple) fruit extract, tocopherol, cocos nucifera (coconut) fruit extract, coffea arabica (coffee) seed extract, dipteryx odorata seed extract, vanilla planifolia fruit extract, alcohol, potassium sorbate.
Blue Lizard – Australian Sunscreen – Sensitive Mineral Sunscreen- SPF 30+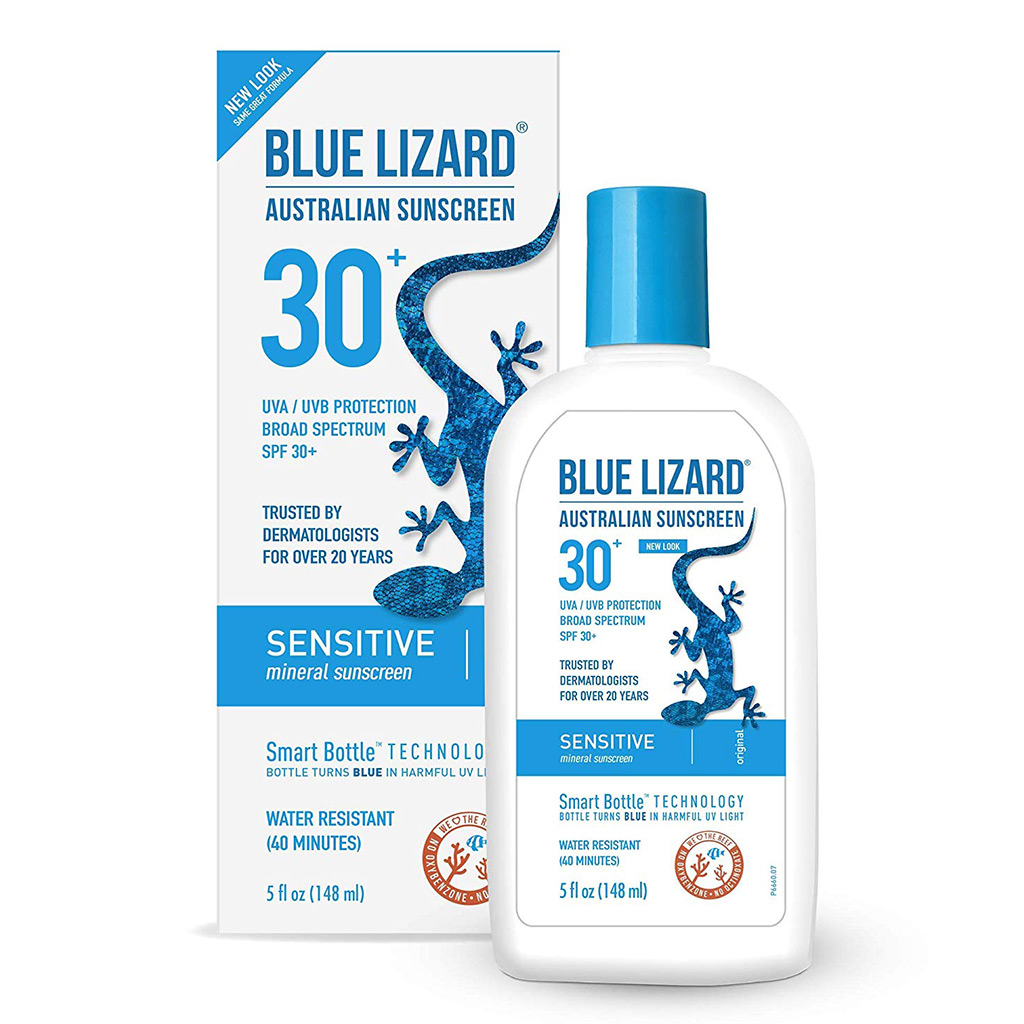 Not the most natural formula composition on this list, but the availability and price make it an appealing option for many. Spot test accordingly and watch for skin sensitivity.
Zinc Oxide 10%, Titanium Oxide 5% Beeswax, C12-15 Alkyl Benzoate, Caprylyl Glycol, Cetyl Dimethicone and/or Cetyl Dimethicone Copolyol, Chlorphenesin, Disodium EDTA, Ethyhexyl Palmitate, Ethyhexyl Stearate, Hexyl Laurate, Hydrogenerated Castor Oil, Methyl Glucose Dioleate, Octododecyl Neopentanoate, PEG-7 Hydrogenated Castor Oil, phenoxyethanol, Polyglyceryl-4 Isostearate, Propanediol, Purified Water, Sorbitan Oleate, Stearic Acid, Tocopheryl Acteate, Trimethylated Silica/Dimethicone, VP Hexadecene Copolymer
Aveeno Kids – Continuous Protection – Zinc Oxide Sunscreen – SPF 50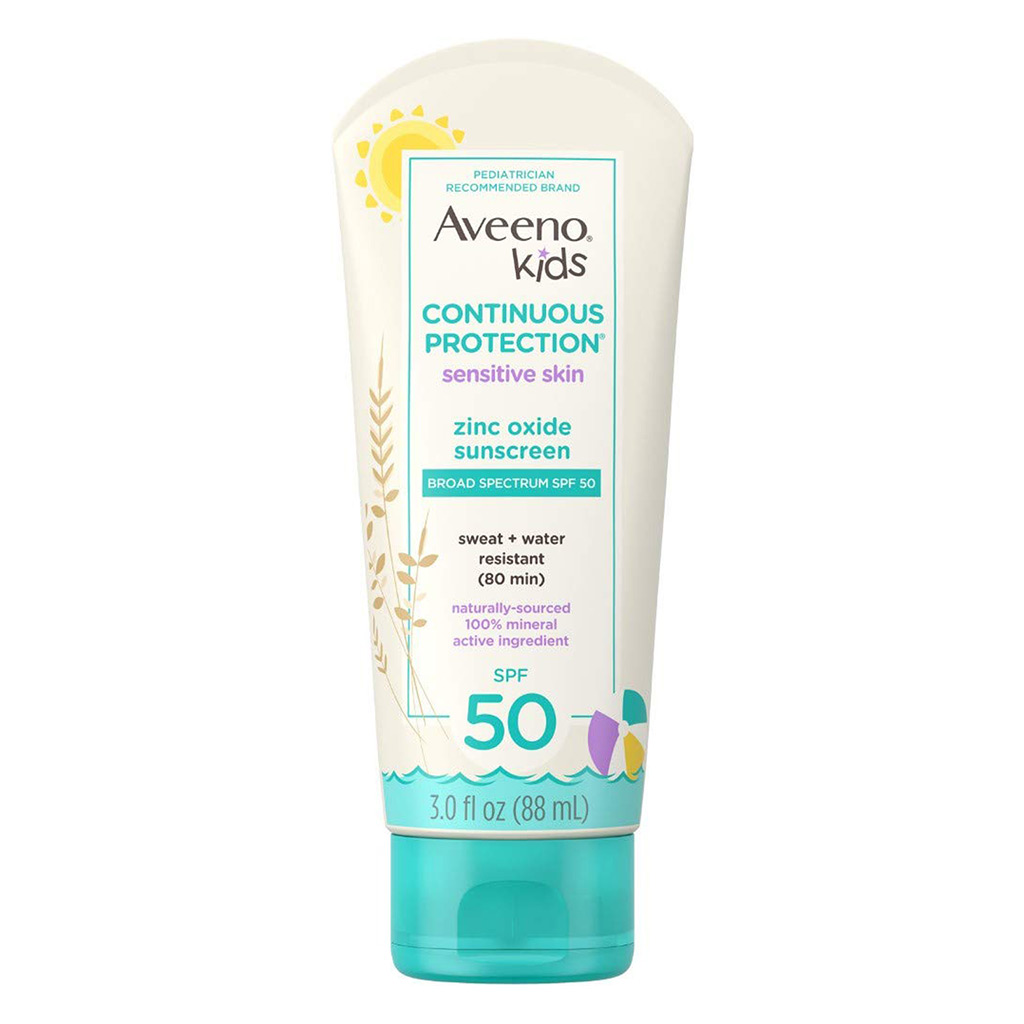 Another purely zinc oxide based option. Though the formula is packaged and hints at being natural, the ingredients list is significantly more silicone/polymer based. Nonetheless, being Aveeno, availability is likely to be excellent.
Zinc Oxide (21.6%) Water, C12-15 Alkyl Benzoate, Styrene/Acrylates Copolymer, Octyldodecyl Citrate Crosspolymer, Phenyl Trimethicone, Cetyl PEG/PPG-10/1 Dimethicone, Dimethicone, Polyhydroxystearic Acid, Glycerin, Ethyl Methicone, Silica, Cetyl Dimethicone, Triethoxycaprylylsilane, Phenoxyethanol, Glyceryl Behenate, Sodium Chloride, Acrylates/Dimethicone Copolymer, Chlorphenesin, Phenethyl Alcohol, Avena Sativa (Oat) Kernel Flour, Caprylyl Glycol, Cetyl Dimethicone/Bis-Vinyldimethicone Crosspolymer, Chrysanthemum Parthenium (Feverfew) Flower/Leaf/Stem Juice
EltaMD – UV Physical – Broad Spectrum – SPF 41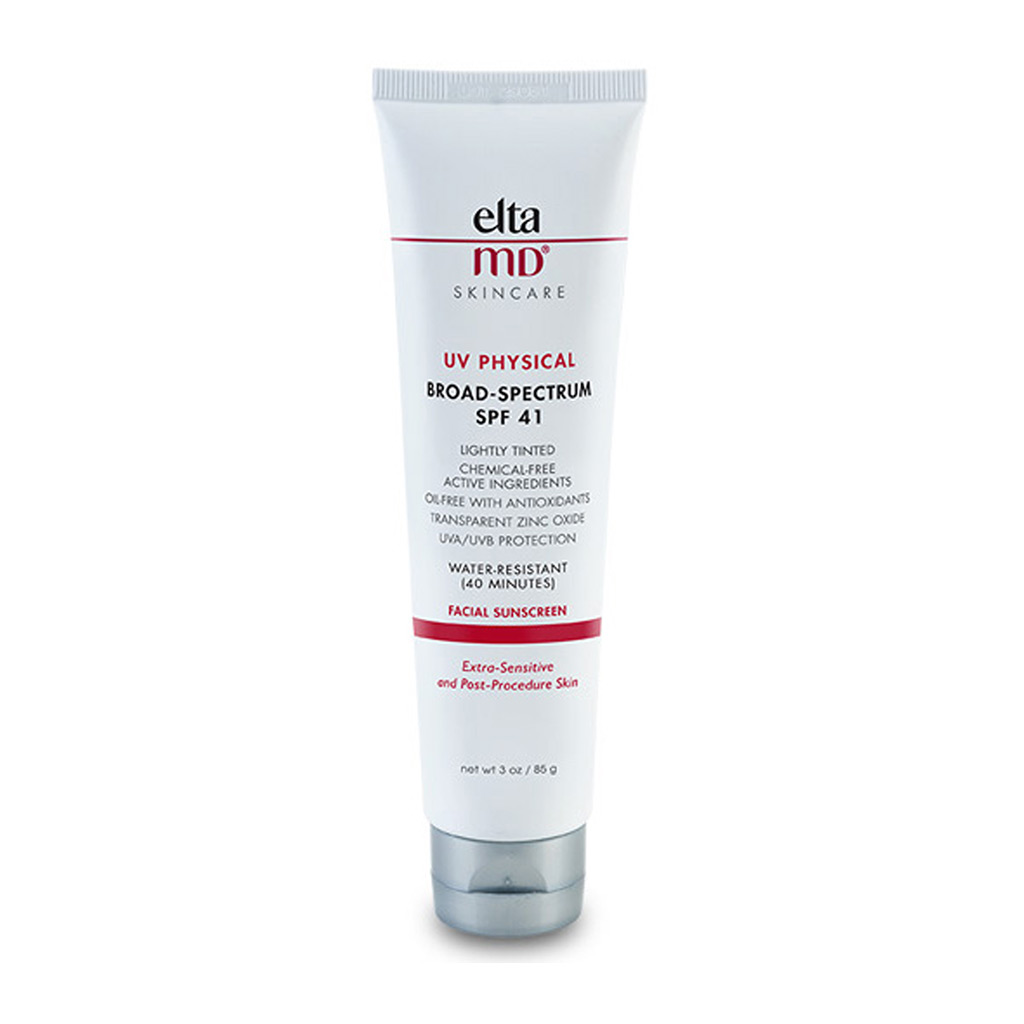 Advertised to include "transparent zinc oxide" (possibly achieved by reduced particle size – nano-particles) and features significantly higher price tag to match (falling into the premium category).
Again, good to see the combination of both titanium dioxide and zinc oxide for better UV protection coverage. Interestingly the formula also features aluminum oxide (alumina)and iron oxide, which are not very frequently featured.
For the first time on this list, quercetin makes an appearance, but unfortunately, it's position on the list (even lower than the preservative phenoxyethanol) hints that the concentration is quite small and none of the more common antioxidants are present.
9.0% transparent zinc oxide, 7.0% titanium dioxide Alumina, Butylene Glycol, Citric Acid, Iodopropynyl Butylcarbamate, Iron Oxide, Isopropyl Palmitate, Lecithin, Linoleic Acid, Hydrogen Dimethicone, Octyldodecyl Neopentanoate, Octyl Stearate, Oleth-3 Phosphate, Perfluorononyl Dimethicone, Phenoxyethanol, Polyacrylate 13, Polyisobutene, Polysorbate 20, Purified Water, Quercetin, Sodium Hydroxide, Thioctic Acid (Alpha Lipoic Acid), Triethoxycaprylylsilane.
Australian Gold – Botanical Sunscreen – SPF 50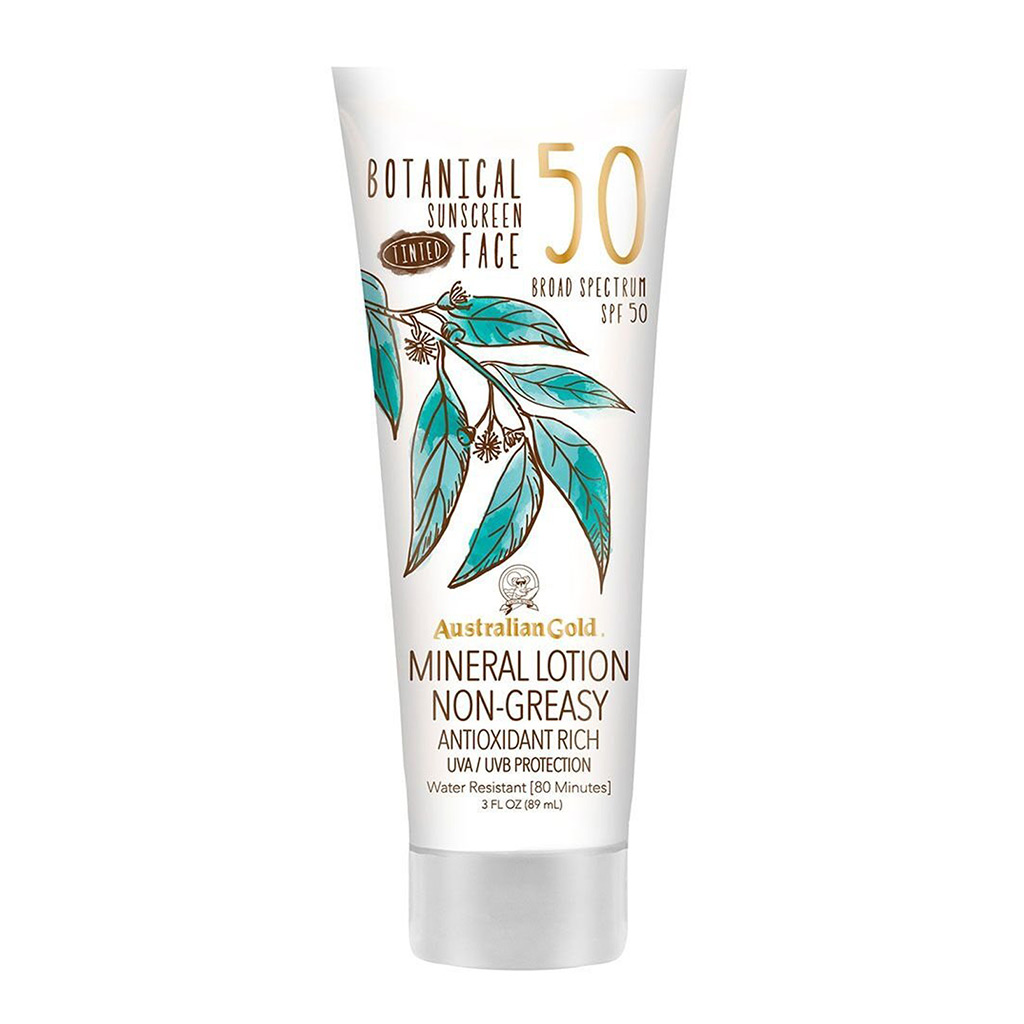 Quite low active ingredient concentrations, yet a high SPF rating. Seeing aluminum oxide and iron oxide appears again, this is likely where the rest of the UV protection is coming from [30].
Though the labeling is suggestive of a natural formulation, silicone and polymer-based derivatives do make a significant appearance as well.
Titanium Dioxide 4%, Zinc Oxide 4% Alumina, Butyrospermum Parkii (Shea) Butter, Caprylyl Glycol, Cetyl PEG/PPG-10/1 Dimethicone, Cyclopentasiloxane, Dimethicone Crosspolymer, Disodium EDTA, Disteardimonium Hectorite, Eucalyptus Globulus Leaf Extract, Glycerin, Hexyl Laurate, Iron Oxides, Panthenol, PEG-10 Dimethicone, Phenoxyethanol, Polyglyceryl-4 Isostearate, Polymethylsilsesquioxane, Porphyra Umbilicalis (Red Algae) Extract, Silica, Squalane, Stearic Acid, Terminalia Ferdinandiana (Kakadu Plum) Fruit Extract, Tocopheryl Acetate*, Triethoxycaprylylsilane, Water *Vitamin E
Additional Things to Consider
A few additional points you may find relevant when making your choice.
Adequate skin coverage is critical
The effectiveness of sunscreen has a direct relationship to just how much of it actually covers the skin [31]. Think of it as an armor that goes on and if your armor has a bunch of holes, it's not going to be very effective. But even sub-optimal application appears to be better than no application at all [32]. Statistically, most people do not apply enough sunscreen to reach the SPF rating indicated.
Consider your skin care routine prior to sun exposure
Sebum itself appears to provide significant protection against UV radiation [33, 34]. It's possible that the rise in the use of skin cleansing agents is partially responsible for the rising melanoma numbers. Accordingly, it may be worth considering your overall skin care practice prior to sun exposure.
Washing of sunscreen after use
Since with seborrheic dermatitis, our skin barrier is already significantly disrupted, our approach to cleaning off the sunscreen must be as gentle and simple as possible as well (especially if that sunscreen is formulated for improved water resistance). Luckily, a group of researchers from Sichuan University in Chengdu, China investigating this topic in detail. Their conclusion was that using a cleansing oil appears to provide the best rate of sunscreen removal and have the least irritation/drying potential [35].
What you eat plays a role
Dietary components have also been shown to provide added benefit.
Common antioxidants such as beta-carotene, vitamin C and vitamin E have the most robust support [36, 37].
An extract from the leaves of a fern by the name of polypodium leucotomos has been shown to provide some photo-protection benefits [38]
Omega 3 fatty acids [39] and green tea polyphenols

[]

may improve the skins immune response to UV damage and help negate a portion of the negative effects.
Don't forget the classics
More old fashioned approaches to photo-protection (hats, clothes, umbrellas) should also be viewed as viable options with the lowest risk of triggering sensitivity.
Effect of UV protection on Vitamin D should be minimal but may need consideration
When it comes to the risk of depleting Vitamin D levels with too much focus on UV protection, the consensus seems to be that that daily moderate use of sunscreen should not compromise vitamin D synthesis in the general population. However, those with low levels (as it seems to be the case in a large percentage of seborrheic dermatitis affected individuals), should seek advice and possibly consider supplementation [40].
Check the ingredients list
Some sunscreens advertise themselves as mineral based (zinc oxide), yet the ingredients indicate additional active UV filters are included. To me, this seems somewhat deceptive and the other active ingredients should really be more clearly advertised. Review the ingredients as necessary.
Difficult to find a mineral based SPF rated moisturizers
A number of moisturizers/lotions are available that also feature UV protection. The same principles would apply when it comes to selection. However, as both zinc oxide and titanium dioxide tend to leave a thin white deposit, they may not be aesthetically acceptable and chemical UV protective agents are usually employed.
Summary
Hopefully, by now you have a good understanding of sunscreen technology and which choices are likely to be most compatible for seborrheic dermatitis prone skin. Here's a quick recap:
Decades of research have suggested that excessive exposure to UV radiation is a potential risk factor for melanoma (the most common type of skin cancer)

The primary goal of all sunscreen is to reduce the amount of UV radiation that comes into contact with skin, which in turn-in may reduce your risk for skin cancer

There are currently two main methods UV protection is achieved: chemical filters – which absorb the UV radiation; physical filters – which reflect the UV radiation

The physical filters zinc oxide and titanium dioxide have some of the robust safety profiles and offer optimal UV protection, making them good candidates for seborrheic dermatitis; plus zinc oxide may provide additional anti-fungal benefits to reduce Malassezia activity

To reduce the chance of irritation, the overall sunscreen formula should be: as simple as possible, utilize a mild preservative system, and be fragrance-free; excessive use of nanotechnology may create concerns

The inclusion of various antioxidants appears to enhance UV protection (by reducing the damage) and may also directly benefit seborrheic dermatitis (as the condition is known to introduce excessive oxidative damage)

Three formulations stood out the most: ThinkBaby Safe Sunscreen – zinc oxide formulation using a variety of oils for its base; Baby Bum Fragrance Free – similar approach, in a different base; and Burt's Bees Baby Nourishing Mineral Sunscreen – provides the combination of zinc oxide and titanium dioxide

Apart from specific sunscreen formula, there are many other factors which increase UV protection: classic protection (hats, clothes, sunglasses), sunscreen coverage, dietary factors, and your overall skin care routine (especially prior to sunscreen exposure)
Hope you've found this information useful. Please let me know if you have any suggestions for a good sunscreen for seborrheic dermatitis or have any questions.