This article outlines 7 essential seborrheic dermatitis shampoos currently available.
The list focuses on one shampoo per active ingredient and sticks to those active ingredients that are currently approved by the FDA (you can review the FDA approved list of active ingredients). Alternative shampoos which use these same active ingredients also exist and may be found mentioned throughout, yet, there are not as throughout discussed.
The shampoos described are deemed to be the most popular choice for the specific active agent.
Some of things discussed include:
How the active ingredient works
What makes the specific shampoo stand out
The overall formulation
Personal experiences and overall user feedback
Usages tips
Accurate diagnosis is the most important part of treatment
In order for a seborrheic dermatitis shampoo to be effective, it's important your symptoms are indeed related to seborrheic dermatitis and not a visually similar skin condition (such as plaque psoriasis). Many underestimate the importance of accurate diagnosis and may spend their efforts trying to treat the wrong condition. Take the time to visit a local professional and have them evaluate your skin (visiting several further improves the accuracy of your diagnosis).
What is Seborrheic Dermatitis
Seborrheic dermatitis is believed to be a chronic skin condition that affects roughly 5% of the adult population [1]. And unfortunately, it's considered a chronic skin disorder that requires ongoing maintenance treatment.
When the condition affects the scalp, it is more commonly known as dandruff (believed to be a more mild form of seborrheic dermatitis with limited inflammation. though some disagreement exists). In the case of dandruff, the condition is estimated to affect up to 50% of the general population [2].
The condition is characterized by dryness, patches of dry (often greasy) skin flakes, significant itching, and general irritation of the affected skin.
Though not universally accepted, the majority of literature on the subject concludes that seborrheic dermatitis is caused by the Malassezia fungus [3, 4]. This fungus is present on the skin of healthy individuals as well, but some of us, the fungus is believed to be responsible for the skin symptoms collectively known as seborrheic dermatitis.
Further Reading
A thorough discussion of the condition is outside the scope of this article, but if you like to learn more about the condition, you refer to the seborrheic dermatitis owner's manual. This is a publically accessible online eBook that documents my collective findings on the topic.
1. Head and Shoulders – Pyrithione Zinc Seborrheic Dermatitis Shampoo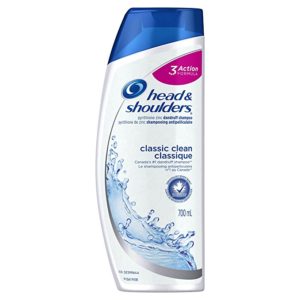 Active Ingredient: Pyrithione Zinc 1% Inactive Ingredients: Water, Sodium Lauryl Sulfate, Sodium Laureth Sulfate, Glycol Distearate, Zinc Carbonate, Sodium Chloride, Sodium Xylenesulfonate, Cocamidopropyl Betaine, Fragrance, Dimethicone, Sodium Benzoate, Guar Hydroxypropyltrimonium Chloride, Magnesium Carbonate Hydroxide, Methylchloroisothiazolinone, Methylisothiazolinone, Blue 1, Red 33.
This is the single most popular shampoo for seborrheic dermatitis. In fact, it is so popular that people use it every day, even without seborrheic dermatitis or dandruff. Through effective marketing campaigns, simple product packaging, affordability, and effectiveness, it is has been able to become one of the top selling shampoos on the market.
Head and Shoulders (Procter & Gamble) has done or sponsored many studies on dandruff, seborrheic dermatitis, and scaling. They have pioneered much of the work relating to the Malassezia furfur yeast/fungus (which many researchers believe is responsible for seborrheic dermatitis).
The company and its research team, strongly believe this small skin yeast/fungus is the main culprit behind all seborrheic dermatitis problems. In turn, they've developed an effective anti-fungal agent which kills malassezia yeast/fungus (along with many others). While doing little harm to the natural skin cells (as they say).
Is Head and Shoulders a Safe Shampoo
Proctor and Gamble (the owners of Head and Shoulders) have funded a vast amount of safety and toxicology studies to prove that Head and Shoulders is not harmful to the average consumer. Through these studies, they have been able to demonstrate that their shampoo is safe for external use by us humans. Its safety is also demonstrated by the fact that is sold in a very large number of countries around the world (as many countries require their own safety testing).
There is one thing I did want to point out though. Zinc Pyrithione becomes highly dangerous at high concentrations (+20%) and has even been associated with DNA damage [5]. This really scared me at first, but after further research, I found that the concentration of practically any substance can significantly change the safety of the substance.
For example, sodium chloride (salt – considered a harmless substance) diluted with water can present on the danger of burning the skin. And as you increase the concentration you increase the chance of irritation.
How Well Does Head and Shoulders Work
Zinc pyrithione is considered one of the most effective anti-fungal agents for the treatment of seborrheic dermatitis [6, 7]. While ketoconazole and selenium sulfide may be more effective in more aggressive cases [1], zinc pyrithione finds a good middle ground with a limited number of known side-effects.
In my experience, Head and Shoulders are highly effective and the results come within hours of first use. Itchiness subsides practically right away. Irritation and dermatitis start to die down, and redness subsides right after use.
Flakiness and dryness are the symptoms which only start to disappear after more frequent usage. In fact, dryness was actually increased during use for me and was only aided by moisturizers and conditioners.
Key Takeaways
Head and Shoulder work amazingly well for seborrheic dermatitis. Its active ingredient, zinc pyrithione, is very effective for treatment of seborrheic dermatitis and has been demonstrated to be safe.
However, I've personally found several negative aspects to its long-term usage. This includes things such as pale skin, sun sensitivity, and dryness.
2. Neutrogena T/Gel – Coal Tar Seborrheic Dermatitis Shampoo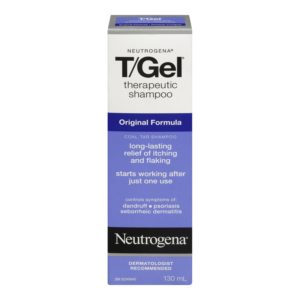 Active ingredients: Coal Tar 1% (4% Neutar® Solubilized Coal Tar Extract). Inactive ingredients: Water, Sodium Laureth Sulfate, Polysorbate 20, Cocamidopropyl Betaine, Bishydroxyethyl Dihydroxypropyl Stearammonium Chloride, Fragrance, Cocamide MEA, PEG-120 Methyl Glucose Dioleate, DMDM Hydantoin, Tetrasodium EDTA, Sodium Hydroxide, Citric Acid, Sodium Chloride, Triethanolamine.
Coal tar has a long history in medicine for its use in the treatment of various skin conditions [8, 9]. Additionally, there are also natural alternatives such as pine tar and sulfonated shale oil (which I actually highly recommend, but did not include here because it's almost impossible to find in a commercially available product).
These tar based products work mainly by slowing skin cell reproduction, normalizing the skins inflammatory response mechanism, and killing off bacteria/fungus [10, 11].
Why Tar Shampoos May Not Be As Popular
The main negative point associated with these products is the strong smell and their ability to easily stain clothes.
The first one regarding the smell is true, it was quite a strong smell, but once you get used to it, you actually start to enjoy it (at least I enjoyed the pine tar soap).
The second point regarding the staining is not as true (at least it was not for me). Yes, it is brown and obviously, it will make things brown if you get it on fabric. However, in my experience, a thorough wash was more than enough to quickly get it out.
Are Coal Tar Shampoos Safe
Thanks to its long history of use, coal tar has a substantial amount of evidence to support it's long-term safety [12] – with some studies even evaluate its impact overall the course of several decades [13].
The more natural tar alternatives have much less hard data and facts regarding their safety but seem to have been tested by time. However, some research does claim that sulfonated oils have a superior safety to tar preparations [12].
There are potential concerns regarding the neurotoxicity and carcinogenic aspects of tars, however, to date, there has not been a direct connection to threat in humans [8].
How Well Does Coal Tar Work
This was actually my favorite solution out of the commercial products I've tried. The ingredients list was much shorter than the Head and Shoulders one and it didn't dry the skin as much.
Overall this was probably my second most used anti-fungal shampoo product. The only reason it is not number one on this list is that I didn't use it nearly as long or as much (as Head and Shoulders).
Knowing everything I know now, if I was faced with seborrheic dermatitis a coal tar based shampoo would likely be my anti-fungal shampoo of choice (from the ones outlined here). However, towards the end of my issues with seborrheic dermatitis, I used a sulfonated shale oil based shampoo. That shampoo is super hard to find, thus I have chosen to exclude it from the list. This is the shampoo on Amazon, but recent reviews suggest issues with the new formula (price is high as well).
Other tar products I've used, such as Grandpas Pine Tar soap have also been quite effective. They did dry the skin out more than the Neutrogena. But I actually thought the smell of those was much more natural and likable (like a campfire).
Neutrogena tried to mask their smell with fairly strong perfume. What they ended up with smells somewhat strange to me, but I guess it makes it much more marketable to women.
Key Takeaways
Neutrogena T/Gel works well for seborrheic dermatitis. Its active ingredient, coal tar, is very effective at controlling seborrheic dermatitis and studies suggest it's relatively safe. It has a fairly short ingredients list, is less drying then zinc pyrithione based products, smells strong, and is of natural origin.
3. Nizoral – Ketoconazole Seborrheic Dermatitis Shampoo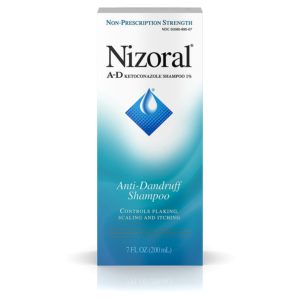 Active Ingredients: Ketoconazole (1 %). Inactive Ingredients: Acrylic Acid Polymer, Butylated Hydroxytoluene, Cocamide MEA, FD&C Blue 1, Fragrance, Glycol Distearate, Polyquaternium 7, Quaternium 15, Sodium Chloride, Sodium Cocoyl Sarcosinate, Sodium Hydroxide, Hydrochloric Acid, Sodium Laureth Sulfate, Tetrasodium EDTA, Water (Aqua)
This to me was the strongest anti-fungal shampoo I've ever tried for seborrheic dermatitis. When applied to the skin or hair, it felt like a nuclear bomb was just dropped and everything has been completely eradicated.
It's so strong that previously it was only available in the USA under a prescription. When used as a hair shampoo, it feels like your hair has just been turned into dead grass/straw. It nukes everything living good or bad and sucks the moisture out like nothing else I've used. Perhaps your experience may be different, but that was mine.
Due to how strong it was, I was only able to use this product twice. It just didn't feel right. Yes, it did eradicate redness, itchiness, flakiness, and all the bad stuff associated with seborrheic dermatitis. However, it also felt like it eradicated every single nutrient and skin cell in its way.
Are Ketoconazole Shampoos Safe
Based on all research papers I've read, Nizoral/Ketoconazole is completely safe if used according to the 2-3 times per week recommendations [14]. However please note that the strength of the solution will play a big role in its safety. All the data I've looked at used a maximum concentration of 2% (which is the max you will find anywhere for sale anyway).
How Well Do Ketoconazole Shampoos Work
Th simple answer is yes it does work and it works fast. It is considered the most effective over the counter anti-fungal agent for the treatment of seborrheic dermatitis [15]. With some studies showing that it's almost as effective as hydrocortisone cream [16].
Using this stuff feels like bringing a gun to a knife fight. It just seems to go over the top in its anti-fungal killing ability. Feel free to give it a try, but I couldn't really recommend it because it seemed much too strong for me.
Another thing I found interesting, is that if you are losing hair in connection to your seborrheic dermatitis, Nizoral might be a very good and appealing option for you. Studies suggest that it can significantly improve hair growth in terms of both hair shaft thickness and overall hair density [17]. Out of all things they tested in one study it was the most effective thing [18]. There are even reviews on Amazon of people using it to reverse/delay early balding.
Key Takeaways
Nizoral shampoo works extremely well for seborrheic dermatitis. Its active ingredient, ketoconazole, is very effective for seborrheic dermatitis and balding, however, its safety is a little bit more unclear.
It is a very drying shampoo, is quite expensive, used to be available only by prescription, increases hair growth, and is one of the strongest topical anti-fungal agents available over the counter.
4. Selsun Blue – Selenium Sulfide Seborrheic Dermatitis Shampoo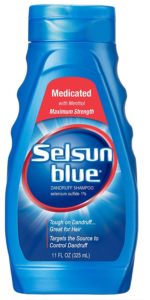 Active Ingredient – Selenium Sulfide 1%. Inactive Ingredients: Water, Ammonium Lauryl Sulfate, Distearyl Phthalic Acid Amide, Ammonium Laureth Sulfate, Sodium Chloride, Cocamide MEA, Dimethicone, Aloe Barbadensis Leaf Juice, Hydroxypropyl Methylcellulose, Sodium Isostearoyl Lactylate, DMDM Hydantoin, Fragrance, Citric Acid, Sodium Citrate, Titanium Dioxide, Blue 1.
To me, this looked like one of the stranger products. It's blue color and thick consistency make it look like slime from a kids movie. Nonetheless, countless users across the world swear by its effectiveness and you can find numerous YouTube reviews described that it worked in cases where other antifungals failed.
In truth, I've never tried the product so I do not really have my own opinion of it. The reason I didn't try it is quite simple. By the time I learned about it, I was completely done with anti-fungal usage. Even then there were times where I really wanted to give it a try but didn't. Additionally, the one thing that was always in the back of my mind, where it's safety concerns.
Are Selenium Sulfide Shampoos Safe
Overall, selenium sulfide shampoos have been documented to be safe with regular usage [19]. However, it does have a greater chance of side-effects than many of the other options discussed here [20].
The product is banned in Japan and in several countries around Europe. It is also considered a carcinogen by the EPA and state of California. However, this hasn't stopped people using it on a regular basis and swearing by its effectiveness.
How Well Do Sulfide Shampoos Work
Based on the results people online have been able to obtain, I've come to the conclusion that it is highly effective for seborrheic dermatitis. Clinical studies equate it to being as effective as ketoconazole based shampoos [21]. Even potentially more so then the Head and Shoulders (pyrithione zinc) and T/Gel (coal tar).
It also appears to have less effect on the skins ability to tolerate the sun (which the others strongly affect). If you are reading this and have used Selsun Blue, share your knowledge with other readers in the comments below.
Key Takeaways
Selsun Blue works extremely well for seborrheic dermatitis. Its active ingredient, selenium sulfide, is very effective for seborrheic dermatitis. There are, however, significant safety concerns of prolonged use [22]. Regardless of this, many people online swear by its effectiveness. Due to the fact that I've personally never used it, I can't really make any first-hand observations.
5. Neutrogena T/Sal – Salicylic Acid Seborrheic Dermatitis Shampoo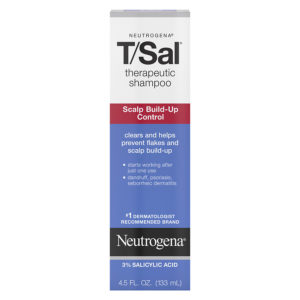 Active ingredient: Salicylic Acid 3% (Anti-dandruff, anti-seborrheic dermatitis, anti-psoriasis). Inactive ingredients: Water, Cocamidopropyl Betaine, Sodium C14-16 Olefin Sulfonate, Linoleamidopropyl PG-Dimonium Chloride Phosphate, Sodium Lauroyl Sarcosinate, Polyquaternium-22, Hexylene Glycol, Sodium Citrate.
Here is another effective seborrheic dermatitis (dandruff) shampoo from Neutrogena. It works by removing the dead skin and any yeast build up using a fairly strong acid.
Salicylic acid is of natural origin and is derived from the willow trees bark. Additionally, it is frequently used in many other skin care products as an effective solution for acne. At higher concentrations, it is used to remove warts and corns [23].
When used for seborrheic dermatitis (dandruff), it is extremely effective at removing the flakes [2]. It leaves the skin feeling very tight and bright pink.
Specifically for me, it did not seem to have very lasting results. However, one of my favorite aspects of it was how mild it was.
Are Salicylic Acid Shampoos Safe
Salicylic acid seems to be one of the safer products listed here. Its popularity in a wide variety of applications has allowed for quite an impressive amount of safety data to be gathered around it [24]. Some people with very sensitive skin have been shown to experience slight discomfort from its use (likely due to its highly acidic nature).
Do Salicylic Acid Shampoos Work
Yes and no. It seems to work very well when the seborrheic dermatitis is quite mild, however, as seborrheic dermatitis becomes worse, it does very little to help. This is likely due to the infection getting deeper into the pores and salicylic acid's fairly week anti-fungal properties [25].
Also from my latest and research, salicylic acid combined with sulfur seems to be a much more effective solution for seborrheic dermatitis, then salicylic acid on its own [26].
Key Takeaways
Neutrogena T/Sal works pretty well for mild seborrheic dermatitis (dandruff). Its active ingredient, salicylic acid, is quite effective for removing the flakes and scales caused by seborrheic dermatitis. However, for aggressive seborrheic dermatitis, it is far too weak in combating the yeast/fungus deep in the pores of the skin.
6. Jason Natural Dandruff Relief – Sulfur Seborrheic Dermatitis Shampoo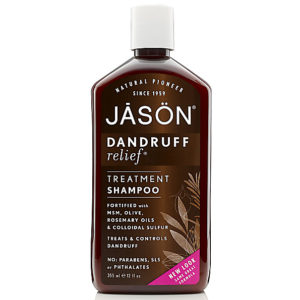 Ingredients: Colloidal Sulfur, Salicylic Acid, Purified Soft Water, Aloe Vera Gel,Cocamidopropyl Betaine, Seaweed Extract, Sodium Myreth Sulfate, Potassium Cocyl Glutamate, Panthenol, Lauramide Mea, Methylsulfonylmethane, Hydrolyzed Oat Protein, Glycerin (Vege), Disodium Cocoamphodiaacetate, Jojoba Oil, Virgin Olive Oil, Vitamin E (Tocopheryl Acetate), Xanthan Gum, Tea Tree Oil, Silica Extract, Undecylenoyl Glycine, Dimethicone, Squalane, Folic Acid, Capryloyl Glycine, Neem Oil, Apple Cider Vinegar, Sodium Lauramphoacetate, Glycol Stearate, Sodium Cocoyl Isethionate, Beta Glucan, Stearic Acid, Vitamin B6 (Pyridoxine HCL), Vitamin A (Retinyl Palmitate), Grapefruit Seed Extract, Oil of Wintergreen, Rosemary Oil.
This goes hand in hand with the suggestion from the previous section. This shampoo takes both sulfur and salicylic acid and combines them into one single shampoo formula. The smell of this shampoo is quite off-putting and will make your hair smell like rotten eggs for a while, which would obviously be worse if your hair is longer.
The sulfur and the salicylic acid act as a perfect team. One acts to effectively remove build-up and scales, while the other does the dirty work and fights the yeast/fungus.
While there are a limited amount of papers discussing/evaluating the use of sulfur for seborrheic dermatitis, it is one of the FDA approved agents for its treatment.
Are Sulfur Based Shampoo Safe
Both of the ingredients in the Jason shampoo (salicylic acid and sulfur) are of natural origin and have been used for centuries. They have strong safety data and I would consider them to be one of the safest products listed here (while still being extremely effective).
The only potential safety concern I have is the very bad smell. Which can be dangerous when going out, as it could detour people away from you.
How Well Do Sulfur Based Shampoos Work
They seem to work and actually quite wonderful. In my experience, the results were on par with Head and Shoulders. The results obtained from this shampoo also appear to stay around for longer than any of the others listed here. There is a ton of praise for this shampoo on many of the different online retailers (the bad ratings are typically from people who either have not used it consistently enough or can't stand the smell).
Please note, it does take a little longer than the others to start working. However, once you get things under control the maintenance schedule is much more slack.
Key Takeaways
Jason Natural Dandruff Relief works well for seborrheic dermatitis if used properly. It's main active ingredient, sulfur is effective for seborrheic dermatitis only if used according to the recommended schedule. The strong smell will likely detour many consumers, especially those with longer hair. The combination of salicylic acid and sulfur works in harmony and can produce amazing results.
7. Paul Mitchell – Tea Tree Oil Seborrheic Dermatitis Shampoo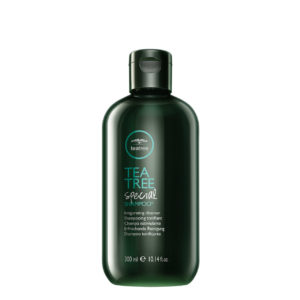 Aqua (Water, Eau), Sodium Laureth Sulfate, Sodium Lauryl Sulfate, Cocamide MIPA, Parfum (Fragrance), Cocamidopropyl Betaine, Panthenol, Melaleuca Alternifolia (Tea Tree) Leaf Oil, Menthol, Hedychium Coronarium (White Ginger) Flower/Leaf/Stem Extract, Triticum Vulgare (Wheat) Germ Oil, Algae Extract, Simmondsia Chinensis (Jojoba) Leaf Extract, Aloe Barbadensis Leaf Extract, Anthemis Nobilis Flower Extract, Rosmarinus Officinalis (Rosemary) Leaf Extract, Glycerin, Oleamidopropyl Betaine, Propylene Glycol, Glycol Stearate, PEG-150 Distearate, Citric Acid, Tetrasodium EDTA, Polyquaternium-7, Bisamino PEG/PPG-41/3 Aminoethyl PG-Propyl Dimethicone, PEG-12 Dimethicone, Methylchloroisothiazolinone, Methylisothiazolinone, Magnesium Chloride, Magnesium Nitrate, Limonene, Linalool, Citronellol, CI 42090 (Blue 1), CI 19140 (Yellow 5).
This is another shampoo that has made the list which I've never used before. It has been included because many people claim that it works well for them.
I have, however, tried many other different tea tree solutions. However, for some reason, they never really gave me the results I was after. Yes, they did help with the scaling from seborrheic dermatitis, but they never really helped with the redness or blotchiness (of the facial area). And I've even written a detailed overview of tea tree oil treatments for those seeking more information.
A product which I have tried from the same line is their tea tree styling gel. Which, I believe did help reduce my dandruff a little bit. However, I do not think that it helped by fighting dandruff, but by simply providing an alternative to regular styling wax which caused my scalp to become quite greasy.
Are Tea Tree Oil Shampoos Safe
Tea tree appears to be the oldest studied thing on this list [27]. If you are considering this method because you are in search of a natural treatment option, be aware that Paul Mitchells shampoo does contain some negative ingredients. Which, people looking for a more natural approach generally stay away from (such as SLS and others). However, overall it much better than most other commercial shampoos.
How Well Do Tea Tree Oil Shampoos Work
Research studies evaluating the effectiveness of tea tree oil shampoos for seborrheic dermatitis show good potential:
A lab study evaluating tea tree oil's anti-fungal potential against malassezia showed significant suppression and noted tea tree oil may be "useful in the treatment of conditions involving M. furfur" [28].
A real-world single-blind study with 126 participants over the age of 14 years showed a 41% improvement rate (just under half of the people showed good progress). Though the scaliness component was noted to have the least improvements, the study concluded that 5% tea tree oil is an "effective and well tolerated" treatment of dandruff [29].
The effectiveness of this particular shampoo for me remains unclear. I've read about people getting results, but after regular usage with similar products, I saw absolutely no change in my seborrheic dermatitis (nor better, not worse). The smell of the shampoo was very nice and the product did have a premium feel to it, which made usage more pleasant.
Key Takeaways
Solely based on my experience with tea tree oil in general, I could not conclude that they are very effective for the treatment of seborrheic dermatitis. However, there are studies which demonstrate its effectiveness [29]. So, perhaps the concentrations in the shampoos I used were off.
Your Body's Natural Defenses
All this effectiveness data and safety information is valuable when choosing a shampoo for the treatment of seborrheic dermatitis, however, one must not forget common sense.
First of all, each of the shampoos listed here depends on their specific active ingredient to be effective. The active ingredient is typically a strong anti-fungal and anti-microbial agent. This sounds very good, but truth be told your skin has its own complex biologic system.
There are many other valuable micro-organisms that live on the skin's surface. Many of which can also be the friendly bacteria that make up your natural skin flora. These friendly bacteria help to fight infection and disease caused by foreign invaders (pathogenic bacteria, yeast, and fungus).
When you use a strong agent such as the zinc pyrithione, ketoconazole or any other anti-fungal, you unwilling kill of many of these beneficial bacteria. Some researchers are now making claims that prolonged use can have a detrimental effect on the natural flora and cause many future issues [2].
This same effect is also seen in other areas of medicine, such as asthma, dysbiosis and other atopic conditions [30]. What happens here, is the body's natural defense mechanisms are damaged due to under stimulation (since you manually kill off the bad bacteria with external agents) and over sanitation. And as a result, over time, your skin/body becomes dependent on external agents to do its work for it.
Obviously, if you use these agents once in a while, you are unlikely to cause any long-term damage. However, if you get in the habit of everyday usage, imagine what will happen when you stop. How will your skin react to its new microbial filled world?
Truth be told, I used Head and Shoulders almost every day for several years. Not because I needed to, but because I did not know any better.
My Own Experience
Once I started experiencing seborrheic dermatitis on my facial skin I started doing research. This led me to find a temporary solution of using Head and Shoulders directly on the facial skin.
My seborrheic dermatitis quickly receded and my skin returned to normal. After a few weeks of great results things quickly deteriorated and my skin became the worst it has ever been. It was constantly pale, dry, flaky, and red at the same time. I wanted answers, I wanted to know what was happening.
Looking back now I think the head and shoulders were not truly a solution, but actually played a significant role in developing the problem.
Then I decided to develop this site and find a more workable solution. After several months of fighting myself to not use anti-fungal shampoos, my seborrheic dermatitis and dandruff became markedly worse.
My scalp was constantly flaky, my skin very oily, and the skin yeast/fungus seemed to be enjoying life on my skin. Honestly, this was one of the hardest periods of my life. I would consistently enjoy staying indoors, just because I was embarrassed and ashamed of my appearance.
The Point of No Return
After about one and a half months in this horrible state, I decided to research other solutions. After trying a myriad of natural anti-fungal solutions I decided to take a different approach. The first step in my transition was the use of a more natural mild shampoo containing the sulfonated shale oil anti-fungal agent briefly described above.
My skin slowly began producing less oil, my scalp became less flaky and in my skin tone greatly improved. Another couple of weeks went by and this is when the most progress was seen. My scalp started to actually look normal, oil was no longer a problem, dandruff was practically gone, itching and redness subdued and seborrheic dermatitis was barely there.
Since the sulfonated shale oil shampoo was so hard to find and so expensive, I decided to revamp my approach once again. This time I went against all common recommendations and purchased a relatively natural highly moisturizing shampoo called (Andalou Naturals Moisture Rich](https://andalou.com/products/argan-oil-shea-moisture-rich-shampoo). Haven't looked back since. I've been using this shampoo for about a year now and my dandruff rarely bothers me. There have been a few odd times where it would return, but things never get out of control.
Update August 2018
Unfortunately, the makers of the shampoo have changed the formula. The new one is quite drying and resulted in a return of my symptoms.
Quick Overview of Other Variables
Another thing that I believe played a very significant role in helping get things under control was my fairly clean eating habits, glutamine supplementation and an H. Pylori diagnosis.
The H. Pylori was diagnosed by accident when a member of my family had issues with systemic acidity (thus the whole family got tested). I came back positive from the breath test and was prescribed antibiotics. Which, hopefully successfully got rid of it (follow up testing came back negative).
Conclusion
I strongly believe the best thing you can do right now, is to take the time to fully understand the condition. By understanding the condition at its fundamental level you become more empowered to take control and make more informed treatment choices.
Here are the takeaways from this article:
Seborrheic dermatitis is considered a chronic skin condition, requiring ongoing treatment for symptom relief

Accurate diagnosis should be the first thing to focus on, as you may be fighting a visually similar condition that required a different approach – consultation with a doctor recommended

The main understanding is that the Malassezia yeast are responsible for the majority of symptoms; accordingly, anti-fungal agents are the most recommended treatment approach

Zinc pyrithione is the most commonly used anti-fungal agent and Head & Shoulders is the most popular formula across the world today

Coal tar based shampoos have been around for longer and have a proven track record of safety, their biggest downfall is the strong smell and variable outcomes

Ketoconazole and selenium sulfide appear to be some of the most effective anti-fungal agents used for seborrheic dermatitis and can be worth trying in aggressive cases

Salicylic acid and tea tree oil may not be effective for everyone, but solely based on their natural original they are worth trying as part of a more mild treatment strategy

Sulfurs popularity remains limited and it does not have as much discussion for its use in seborrheic dermatitis, but it is approved by the FDA for its treatment

The skin is a complex component of the immune system and various microorganism live on its surface; future approaches may focus on the ecosystem as a whole instead of isolating single members
The moral of the story is please do some research and use common sense when using an anti-fungal shampoo for the treatment of seborrheic dermatitis (dandruff). Yes, it might help visually and instantly, but what do you think its long-term effects are.
Everyone is different and seborrheic dermatitis is a complex condition that the medical community still struggles fully understand. How much do you think the companies selling the stuff benefit/profit from your ongoing problem? What else have you been doing to control your condition? I believe there are many factors which need be to considering when deciding to use an anti-fungal shampoo long-term.
If you have any experience with any of the seborrheic dermatitis shampoos described above or a different shampoo which worked for you, leave your feedback in the comments below.