This article reviews 7 shampoos specifically formulated to treat or reduce the symptoms of seborrheic dermatitis.
The list focuses on one shampoo per active ingredient and sticks to those active ingredients that are currently approved by the FDA (you can review the FDA approved list of active ingredients); with the exception of tea tree oil. Alternative shampoos which use these same active ingredients also exist and may be found mentioned throughout, yet, there are not as throughout discussed.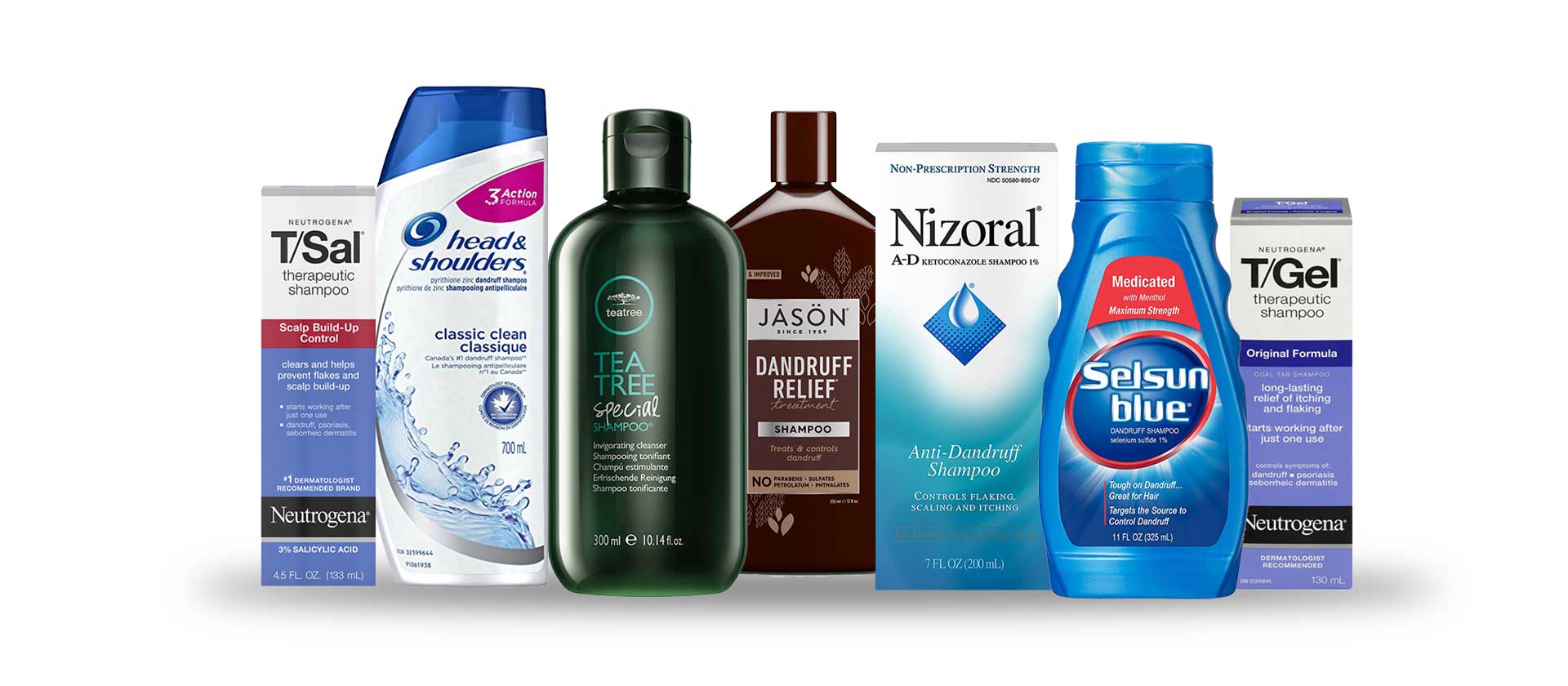 The shampoos described are deemed to be the most popular choice for the specific active agent. And for each shampoo, you've find discussion of the following topics:
How the active ingredient works
What makes the specific shampoo stand out
Safety profile of the active ingredient
Overall potential
My personal experience
General tips
The main goal of the writing is to analyze the active ingredients and is meant to provide readers with a solid foundation in their search for the perfect choice. While the reading may be a bit dry and boring at certain points, adequate knowledge is our best weapon when it comes to dealing with such an allusive skin issue as seborrheic dermatitis.
Accurate diagnosis is the most important part of treatment
In order for a seborrheic dermatitis shampoo to be effective, it's important your symptoms are indeed related to seborrheic dermatitis and not a visually similar skin condition (such as plaque psoriasis). Many underestimate the importance of accurate diagnosis and may spend their efforts trying to treat the wrong condition. Take the time to visit a local professional and have them evaluate your skin (visiting several further improves the accuracy of your diagnosis).
What is Seborrheic Dermatitis
To get the ball rolling and before we dive directly into the list, let's take a moment to briefly review seborrheic dermatitis.
Seborrheic dermatitis is believed to be a chronic skin condition that affects roughly 5% of the adult population [1]. And unfortunately, it's considered a chronic skin disorder that requires ongoing maintenance treatment.
When the condition affects the scalp, it is more commonly known as dandruff (believed to be a more mild form of seborrheic dermatitis with limited inflammation. though some disagreement exists). In the case of dandruff, the condition is estimated to affect up to 50% of the general population [2].
The condition is characterized by dryness, patches of dry (often greasy) skin flakes, significant itching, and general irritation of the affected skin.
Though not universally accepted, the majority of literature on the subject concludes that seborrheic dermatitis is caused by the Malassezia fungus [3, 4]. This fungus is present on the skin of healthy individuals as well, but some of us, the fungus is believed to be responsible for the skin symptoms collectively known as seborrheic dermatitis.
Further Reading
A thorough discussion of the condition is outside the scope of this article, but if you like to learn more about the condition, you refer to the seborrheic dermatitis owner's manual.
So that's out of the way, let's get down to the list of shampoos designed specifically to treat the condition.
Seborrheic Dermatitis Shampoo Review
1. Head and Shoulders – Classic Clean – Pyrithione Zinc Dandruff Shampoo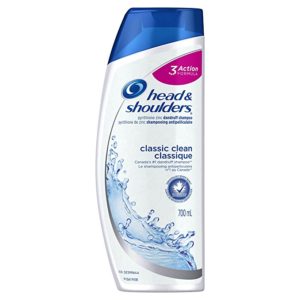 Active ingredient: Pyrithione Zinc 1%
Ingredients: Water, Sodium Lauryl Sulfate, Sodium Laureth Sulfate, Glycol Distearate, Zinc Carbonate, Sodium Chloride, Sodium Xylenesulfonate, Cocamidopropyl Betaine, Fragrance, Dimethicone, Sodium Benzoate, Guar Hydroxypropyltrimonium Chloride, Magnesium Carbonate Hydroxide, Methylchloroisothiazolinone, Methylisothiazolinone, Blue 1, Red 33.
This is the single most popular shampoo for seborrheic dermatitis. In fact, it is so popular that many people without dandruff (or it's more aggressive form, seborrheic dermatitis) use it every day as well. Through effective marketing campaigns, simple product packaging, affordability, and effectiveness; it is has truly been able to become one of the top selling shampoos on the market today.
Part of this is because throughout the years, Head and Shoulders (with Procter & Gamble as the parent company) has carried out and/or sponsored numerous studies on dandruff, seborrheic dermatitis, and scaling. And as a result of all of this information, it seems the research team strongly believes the malassezia yeast is the main culprit behind all seborrheic dermatitis problems.
In turn, they have pioneered much of the work relating to the Malassezia furfur yeast/fungus (which many researchers believe is responsible for seborrheic dermatitis) and finding new ways to suppress it. Developing an effective anti-fungal agent which kills malassezia yeast/fungus, while idng12451368 skin cells (as it is promoted).
Is Head and Shoulders a Safe Shampoo
Proctor and Gamble (the owners of Head and Shoulders) have funded a vast amount of safety and toxicology studies to prove that Head and Shoulders is not harmful to the average user.
Plus, weather it's a good indicator or not, it's safety may also be demonstrated by the fact that it's sold in a many countries around the world (as many countries require their own safety testing).
Yet, there is one thing worth mentioning. Zinc Pyrithione becomes highly dangerous at high concentrations (+20%) and can be associated with DNA damage at these higher levels [5]. A scary fact at first, but on second thought, many common skin care ingredients become dangerous as the concentration increases (just think; urea, lactic acid, etc.).
How Well Does Head and Shoulders Work
Zinc pyrithione is considered one of the most effective anti-fungal agents for the treatment of seborrheic dermatitis [6, 7]. While ketoconazole and selenium sulfide may be more effective in more aggressive cases [1], zinc pyrithione finds a good middle ground with a limited number of known side-effects.
Some online reviews do mention that with continued usage they've noted changes in skin tone (becoming more pale), heightened sun sensitivity, and increased skin dryness.
My Personal Experience with Head and Shoulders
In my experience, Head and Shoulders is highly effective and the results come within hours of first use. Itchiness subsides practically right away. Irritation and dermatitis start to die down, and redness subsides.
Flakiness and dryness are the symptoms which only start to disappear after more frequent usage. In fact, for me, dryness was actually increased during use and was only aided by moisturizers and conditioners.
Key Takeaways
For most people, Head and Shoulders works amazingly well for both dandruff and it's more aggressive form, seborrheic dermatitis.
Its active ingredient, zinc pyrithione, is an FDA approved agent of the treatment of seborrheic dermatitis.
Zinc pyrithione has been demonstrated to be safe when used at or below the recommended concentration.
Some individuals report several negative aspects of long-term usage; most commonly this includes pale skin, sun sensitivity, and dryness.
2. Neutrogena T/Gel – Therapeutic Shampoo – Original Formula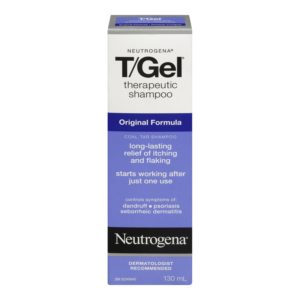 Active ingredient: Coal Tar 1% (4% Neutar® Solubilized Coal Tar Extract)
Ingredients: Water, Sodium Laureth Sulfate, Polysorbate 20, Cocamidopropyl Betaine, Bishydroxyethyl Dihydroxypropyl Stearammonium Chloride, Fragrance, Cocamide MEA, PEG-120 Methyl Glucose Dioleate, DMDM Hydantoin, Tetrasodium EDTA, Sodium Hydroxide, Citric Acid, Sodium Chloride, Triethanolamine
The active ingredient of T/Gel, coal tar, has a long history for its use in the treatment of various skin conditions [8, 9] and has made the list of FDA approved substances for the treatment of dandruff, seborrheic dermatitis, and psoriasis. And while other tars hav been used (pine tar, sulfonated shale oil, etc), coal tar has gained the most popularity due to it's abundance and relatively inexpensive cost.
Generally, it is believed that tar based products work mainly by slowing skin cell reproduction, normalizing the skins inflammatory response mechanism, and killing off bacteria/fungus [10, 11].
Are Coal Tar Shampoos Safe
Thanks to its long history of use, coal tar has a substantial amount of evidence to support it's long-term safety [12]; with some studies evaluating its impact over the course of several decades [13].
The more natural tar alternatives have much less hard data and facts regarding their safety, but they to have stood the test of time (with minimal negative reports found in the literature). Plus, if you really want to be ahead of the curb, some newer research does claim that sulfonated oils may a superior safety profile when compared to coal tar preparations [12].
There are potential concerns regarding the neurotoxicity and carcinogenic aspects of tars, however, to date, there has not been a direct connection to threat in humans [8].
Unfortunately, coal tar does pos a clear photosensitizing effects [9], making the skin more sensitive to sunlight at certain UV ranges. So, uf you plan to use it prior to sun-exposure, make sure you plan ahead and minimize sun exposure to the treated skin.
How Well Does Coal Tar Work
As an active ingredient, coal tar at the range of 0.5% to 5% has been approved by the FDA as an effective treatment approach to seborrheic dermatitis.
It's antifungal effects against malassezia have been established [14] and in the lab setting it's effectiveness may be similar to that of ketoconazole [15].
In addition to it's anti-fungal potential, coal tar ha been documented to [9]:
Reduce epidermal hyperproliferation (increased rate of skin turnover) in psoriatic skin
Thicken the epidermis in healthy skin
Posses anti-pruritic and anti-inflammatory effects
Inhibit sebum secretion
My Personal Experience
Neutrogena T/Gel was actually my favorite shampoo out of the mass market products I've tried. The ingredients list was much shorter than a typical Head and Shoulders formula and it didn't dry the skin as much. Overall, it was probably my second most used anti-fungal shampoo product to date (Head and Shoulders being the first, simply because it worked well for my issues before they became more aggressive).
Knowing everything I know now, if I was faced with seborrheic dermatitis for the first time all over again, a coal tar based shampoo would likely be the first option to test out.
Towards the end of my issues with seborrheic dermatitis, I did successfully use a sulfonated shale oil based shampoo instead of coal tar. But that shampoo was expensive, difficult to find (even online), and recent Amazon reviews suggest issues with the new formula; hence it's not included in this official list.
Other tar products I've used, such as Grandpas Pine Tar soap have also been quite effective. They did dry the skin out more than the Neutrogena, but I thought the smell of those was much more natural and likable (like a campfire). Neutrogena tried to mask their smell with fairly strong perfume and what they ended up with smells somewhat strange.
Why Tar Shampoos May Not Be As Popular
The main negative point associated with these products is the strong smell and their ability to easily stain clothes.
The first one regarding the smell is true, it was quite a strong smell, but once you get used to it, you actually start to enjoy it (at least I enjoyed the pine tar soap).
The second point regarding the staining is not as true (at least it was not for me). Yes, it is brown and obviously, it will make things brown if you get it on fabric. However, in my experience, a thorough wash was more than enough to quickly get it out.
Key Takeaways
Neutrogena T/Gel utilizes coal tar as the active ingredient
Coal tar is an FDA approved treatment for seborrheic dermatitis and is very effective at controlling it's symptoms
Thanks to it's long history, a robust safety record exists
The original T/Gel formula has a fairly short ingredients list, is reported to be less drying then zinc pyrithione based products
Tar based can be considered of natural origin and their strong odor can be a negative for some
3. Nizoral – Anti-Dandruff Shampoo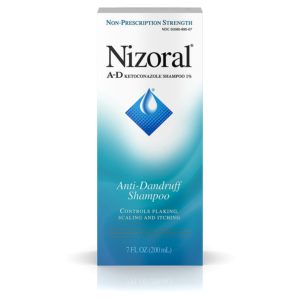 Active ingredients: Ketoconazole (1%)
Ingredients: Acrylic Acid Polymer, Butylated Hydroxytoluene, Cocamide MEA, FD&C Blue 1, Fragrance, Glycol Distearate, Polyquaternium 7, Quaternium 15, Sodium Chloride, Sodium Cocoyl Sarcosinate, Sodium Hydroxide, Hydrochloric Acid, Sodium Laureth Sulfate, Tetrasodium EDTA, Water (Aqua)
The active ingredient in Nizoral, Ketoconazole, is considered to be of the most effective over the counter anti-fungal agent that have been developed in this century. It is widely used in the medical field for not only the treatment of dandruff and seborrheic dermatitis, but a long list of other conditions related to fungal overgrowth (both external and internal).
Are Ketoconazole Shampoos Safe
Based on all research papers I've read, Nizoral/Ketoconazole is completely safe if used according to the 2-3 times per week recommendations [16].
As with almost all over the counter substances, some adverse reactions have been reported:
Hair discoloration
Hair texture changes
Itching/burning sensations
Irritation and development of sensitivity
However, please note that the strength of the solution will play a big role in its safety; with lower concentrations typically presenting list risk. All the data I've looked at used a maximum concentration of 2% (which is the max you will find anywhere for sale anyway).
How Effective is Ketoconazole Against Seborrheic Dermatitis
Put simply, Ketoconazole is considered the most effective over the counter anti-fungal agent for the treatment of seborrheic dermatitis [17]. With some studies even showing that it's almost as effective as hydrocortisone based products [18].
Plus, for those experiencing excessive hair loss, studies suggest that it can significantly improve hair growth in terms of both hair shaft thickness and overall hair density [19, 20]. Accordingly, there are even reviews on Amazon of people using it specifically in attempt to reverse/delay early balding.
My Personal Experience with Nizoral
This to me was the strongest anti-fungal shampoo I've tried for seborrheic dermatitis. When applied to the skin or hair, it felt that it completely stripped everything away and left it raw/bare (if that makes sense). And when using it as a shampoo, it felt like my hair has just been turned into dead grass/straw.
Yes, it did eradicate redness, itchiness, flakiness, and all the bad stuff associated with seborrheic dermatitis. However, due to how strong it was, I was only able to use this a couple of times.
Key Takeaways
The Ketoconazole based shampoo, Nizoral, works extremely well for the treatment of seborrheic dermatitis
While its safety record is not as in-depth as the previous two contenders, it has been deemed safe
Ketoconazole is one of the strongest over the counter anti-fungal agents available
Initial research suggests it may also help control/reverse excessive hair loss and balding
Some users report it can be quite drying
4. Selsun Blue – Medicated Dandruff Shampoo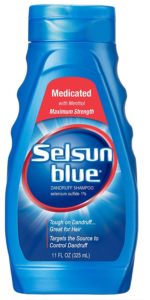 Active ingredient – Selenium Sulfide 1% Ingredients: Water, Ammonium Lauryl Sulfate, Distearyl Phthalic Acid Amide, Ammonium Laureth Sulfate, Sodium Chloride, Cocamide MEA, Dimethicone, Aloe Barbadensis Leaf Juice, Hydroxypropyl Methylcellulose, Sodium Isostearoyl Lactylate, DMDM Hydantoin, Fragrance, Citric Acid, Sodium Citrate, Titanium Dioxide, Blue 1
Selsun Blue is was the first commercial successful brand to release a selenium sulfide shampoo option to the North American market.
A close relative to sulfur, selenium sulfide, was developed in the 1950s in an effort to reduce the unfavorable characteristics of sulfur (primarily odor), while also increasing it's therapeutic benefit. The end result was a modern anti-fungal agent that is both highly effective and mild to the skin.
Are Selenium Sulfide Shampoos Safe
Overall, selenium sulfide shampoos have been documented to be safe with regular usage [21]. However, it does appear to have a greater chance of side-effects than most of the other options discussed here [22].
The product is banned in Japan and in several countries around Europe. It is also considered a carcinogen by the EPA and the state of California (granted the state of California considers quite a bit of things as possible carcinogens).
However, the safety data that does exist, has warranted the FDA to continue to allow it's sale in North America
and feature it in the official list of actives approved for the treatment of seborrheic dermatitis.
How Well Do Sulfide Shampoos Work
Based on the results people online have been able to obtain, I've come to the conclusion that it is highly effective for seborrheic dermatitis. Clinical studies equate it to being as effective as ketoconazole based shampoos [23]. Even potentially more so then the Head and Shoulders (pyrithione zinc) and T/Gel (coal tar).
It also appears to have less negative impact on the skins ability to tolerate the sun (which the others strongly affect). And if you are reading this and have experience with Selsun Blue, please consider taking the time to share your knowledge with other readers in the comments below.
My Personal Experience
To me, this looked like one of the stranger products. It's blue color and thick consistency make it look like slime from a kids movie. Nonetheless, countless users across the world swear by its effectiveness and you can find numerous YouTube reviews described that it worked in cases where other antifungals failed.
In truth, I've never tried the product so I do not really have my own opinion of it. The reason I didn't try it is quite simple. By the time I learned about it, I was completely done with anti-fungal usage. Even then there were times where I really wanted to give it a try but didn't. Additionally, the one thing that was always in the back of my mind, where it's safety concerns.
Key Takeaways
Selsun Blue is the most popular shampoo in North America utilizing Selenium Sulfide as it's active ingredient
Selenium sulfide has been documented to be very effective for controlling the symptoms of seborrheic dermatitis
Safety concerns of prolonged use exist [24]
Many online reviews note emphasize that it proved effective for them, when others failed
5. Neutrogena T/Sal – Therapeutic Shampoo – Scalp Build-Up Control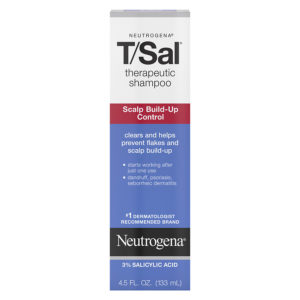 Active ingredient: Salicylic Acid 3%
Ingredients: Water, Cocamidopropyl Betaine, Sodium C14-16 Olefin Sulfonate, Linoleamidopropyl PG-Dimonium Chloride Phosphate, Sodium Lauroyl Sarcosinate, Polyquaternium-22, Hexylene Glycol, Sodium Citrate
Another option from Neutrogena on this list, T/Sal, takes a slightly different approach than all the other options review thus far. Instead of dependence on a primarily anti-fungal agent, T/Sal utilizes a salycilic acid, which while being deemed to have potential anti-fungal properties, is best known for it's skin peeling action.
Accordingly, T/Sal works by removing the dead skin and any yeast build up using a fairly strong acid.
Salicylic acid is an acid of natural origin and is derived from the willow trees bark. It is most frequently used as an effective solution for acne and at higher concentrations, to remove warts and corns [25].
When used for seborrheic dermatitis (dandruff), it is extremely effective at removing the flakes [2], leaving the skin feeling tight and effectively bare.
Are Salicylic Acid Shampoos Safe
Salicylic acid seems to be one of the safer products listed here. Its popularity in a wide variety of applications has allowed for quite an impressive amount of safety data to be gathered around it [26].
Some people with very sensitive skin have been shown to experience slight discomfort from its use (likely due to its highly acidic nature), but these are isolated cases. And for the most part, it shouldn't cause any side effects.
Do Salicylic Acid Shampoos Work
Yes and no. It seems to work very well when the seborrheic dermatitis is quite mild, however, as seborrheic dermatitis becomes worse, it may be insufficient. And this is likely due to the malassezia yeast getting deeper into the skin layers combined with salicylic acid's fairly weak anti-fungal properties [27].
Nonetheless, combination of salicylic acid a more potent anti-fungal agent (even at lower concentrations), such with sulfur, may allow for a sort of one-two punch to the issue. Proving to be a more effective solution to seborrheic dermatitis, then full strength salicylic acid or sulfur on their own [28].
My Personal Experience with T/Sal
Specifically for me, it did not seem to have very lasting results. Tough the first wash would produce an almost instant improve, the skin seemed to adapt rather quickly and a corresponding return of symptoms.
Granted, one of my favorite aspects was just how mild it was.
Key Takeaways
Neutrogena T/Sal and it's active ingredient Salycic Acid, work quit well for mild seborrheic dermatitis
Salicylic acid's, main benefits are derived from its ability to remove flakes and scales
In more aggressive cases of seborrheic dermatitis, it may be insufficient
6. Jason – Dandruff Relief Treatment Shampoo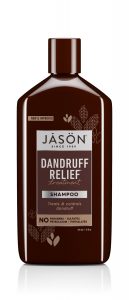 Active ingredients: Sulfur 2.0%, Salicylic Acid 2.0%
Ingredients: Aqua (water), sodium cocoyl isethionate, disodium cocoamphodiacetate, stearic acid, potassium cocoyl glutamate, glycerin, sodium lauroyl sarcosinate, cetyl alcohol, cocamidopropyl betaine, hydrolyzed wheat protein, olea europaea (olive) fruit oil(1), pogostemon cablin (patchouli) oil, rosmarinus officinalis (rosemary) leaf oil, simmondsia chinensis (jojoba) seed oil(1), camphor, dimethyl sulfone(2), menthol, methyl salicylate, potassium hydroxide, sodium PCA, xanthan gum, benzyl alcohol, capryloyl glycine, undecylenoyl glycine, amyl cinnamal, benzyl benzoate, hexyl cinnamal, hydroxycitronellal, linalool, limonene, fragrance (parfum)
Several formulations sell under the same name
Please take note of the specific ingredients list mentioned here. There are other formulations from the Jason brand under the same "Dandruf Relief" name on the market which contain a substantially diferent shampoo base.
The Jason Dandruff Relief shampoo goes hand in hand with the suggestion from the previous section. It takes both sulfur and salicylic acid and combines them into one single formula. And while the smell of this shampoo may be quite off-putting (due to the asulfur), the sulfur and salicylic acid combo make a great team.
Salicylic acid goes to work at removing build-up and scales, while the sulfur other does more of the heavy lifting takes up the fight against the malassezia yeast/fungus.
As mentioned in the previous discussion on T/Sal, the combination of both salycilic acid and sulfur have been documented to be highly effective for the treatment of seborrheic dermatitis [28]. While sulfur has lost some of it's glory in recent decades due to its strong odor, it does remain one of the FDA approved agents for the treatment of seborrheic dermatitis.
Are Sulfur Based Shampoo Safe
Both of the ingredients in the Jason shampoo (salicylic acid and sulfur) are of natural origin and have been used for centuries. They have a fairly strong safety record and I would consider them to be one of the safest products listed here (while still being extremely effective).
The only potential safety concern to keep in mind is the strong odor originating from the sulfur. This in of itselft can be highly dangerous when going out, meeting new people, and socializilng. Simply put, it's probably not the best thing to use right before you head out. 🙂
How Well Do Sulfur Based Shampoos Work
There is a ton of praise for this shampoo on many of the different online retailers (the bad ratings are typically from people who either have not used it consistently enough or can't stand the smell).
Unfortuently, there are several different formulations available in North American under the exact same name. When pruchasing, please keep in mind that the formula which contains "sodium cocoyl isethionate" as it's main cleansing agent gets most of the praise.
My Personal Experience
In my experience, the results were on par with Head and Shoulders and the progress obtained seem to stick around for longer. But it did seem that it take a little longer than the others to start working. However, once you get things under control the maintenance schedule is more slack.
Key Takeaways
Jason Dandruff Relief utilizes a combination approach of two active ingreidents, saliycylic acid and sulfur
The combination of active ingredients typically works well even for more moderate/severe cases
Sulfur's effectivness it optimized by sticking to the recommended usage schedule
Strong odor of the formula may detour many consumers, especially those with longer hair
7. Paul Mitchell – Tea Tree Oil Special Shampoo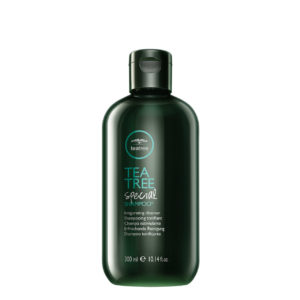 Active ingredient: Melaleuca Alternifolia (Tea Tree) Leaf Oil
Ingredients: Aqua (Water, Eau), Sodium Laureth Sulfate, Sodium Lauryl Sulfate, Cocamide MIPA, Parfum (Fragrance), Cocamidopropyl Betaine, Panthenol, Menthol, Hedychium Coronarium (White Ginger) Flower/Leaf/Stem Extract, Triticum Vulgare (Wheat) Germ Oil, Algae Extract, Simmondsia Chinensis (Jojoba) Leaf Extract, Aloe Barbadensis Leaf Extract, Anthemis Nobilis Flower Extract, Rosmarinus Officinalis (Rosemary) Leaf Extract, Glycerin, Oleamidopropyl Betaine, Propylene Glycol, Glycol Stearate, PEG-150 Distearate, Citric Acid, Tetrasodium EDTA, Polyquaternium-7, Bisamino PEG/PPG-41/3 Aminoethyl PG-Propyl Dimethicone, PEG-12 Dimethicone, Methylchloroisothiazolinone, Methylisothiazolinone, Magnesium Chloride, Magnesium Nitrate, Limonene, Linalool, Citronellol, CI 42090 (Blue 1), CI 19140 (Yellow 5).
Thanks in large part to it's natural appeal, tea tree oil containing formulations have become quite popular in the North American market. And though it may not be the most popular of these, Paul Mitchell's offering has gotten quite a lot of praise due to it's hair salon quality foundation.
Are Tea Tree Oil Shampoos Safe
As the active ingredient, tea tree oil, may be the oldest option featured on this list [29]. Accordingly, it's long history helps solidify it's established safety profile (at or below te recommended concentration levels).
If you are considering this method because you are in search of a natural treatment option, be aware that Paul Mitchells shampoo does contain some ingredients that would be considered a negative on this front (such as SLS and others) and you may find a more "natural" tea tree shampoo offered elsewhere.
How Well Do Tea Tree Oil Shampoos Work
The active ingredient in Paul Mitchells shampoo, tea tree oil, does not appear on the FDA's list of approved agents for the treatment of seborrheic dermatitis, it does remain popular as an altnearitve all natural option. And it's efficacy is cited in a number of peer reviewed journals.
Research studies evaluating the effectiveness of tea tree oil shampoos for seborrheic dermatitis show good potential:
A lab study evaluating tea tree oil's anti-fungal potential against malassezia showed significant suppression and noted tea tree oil may be "useful in the treatment of conditions involving M. furfur" [30].
A real-world single-blind study with 126 participants over the age of 14 years showed a 41% improvement rate (just under half of the people showed good progress). Though the scaliness component was noted to have the least improvements, the study concluded that 5% tea tree oil is an "effective and well tolerated" treatment of dandruff [31].
My Personal Experience with Paul Mitchell Tea Tree Oil Special Shampoo
The effectiveness of this particular shampoo for me remains unclear. I've read about people getting results, but after regular usage, I saw little (if not none) change in my seborrheic dermatitis symptoms.
On the plus side, the smell of the shampoo was amazing and the product did have a premium feel to it, which made usage more pleasant.
Key Takeaways
Tea tree remains a popular natural alternative to commercial anti-fungal agents
Mild to moderate cases may benefit, but effeciciency in more aggressive cases remains questionable
Paul Mitchell's Tea Tree Special formula may not be the most natural tea tree oil based shampoo formula, yet, it's popularity among professional salon operators gives it a solid foundation
Summary and Conclusion
Here are the takeaways from this article:
Seborrheic dermatitis is considered a chronic skin condition, requiring ongoing treatment for symptom relief

Accurate diagnosis should be the first thing to focus on, as you may be fighting a visually similar condition that required a different approach – consultation with a doctor recommended

The main understanding is that the Malassezia yeast are responsible for the majority of symptoms; accordingly, anti-fungal agents are the most recommended treatment approach

Zinc pyrithione is the most commonly used anti-fungal agent and Head & Shoulders is the most popular formula across the world today

Coal tar based shampoos have been around for longer and have a proven track record of safety, their biggest downfall is the strong smell and variable outcomes

Ketoconazole and selenium sulfide appear to be some of the most effective anti-fungal agents used for seborrheic dermatitis and can be worth trying in aggressive cases

Salicylic acid and tea tree oil may not be effective for everyone, but solely based on their natural original they are worth trying as part of a more mild treatment strategy

Sulfurs popularity remains limited and it does not have as much discussion for its use in seborrheic dermatitis, but it is approved by the FDA for its treatment

The skin is a complex component of the immune system and various microorganism live on its surface; future approaches may focus on the ecosystem as a whole instead of isolating single members
In the end, there are many popular shampoos currently available for the treatment of seborrheic dermatitis and most of them are quite effective. Yet, everyone is different and seborrheic dermatitis is a complex condition that the medical community still struggles fully understand.
Personally, I strongly believe the best thing you can do right now, is to take the time to fully understand the condition. By understanding the condition at its fundamental level you become more empowered to take control and make more informed treatment choices.
Food for thought:
How much do you think the companies selling the stuff benefit/profit from your ongoing problem? What else have you been doing to control your condition?
If you have any experience with any of the seborrheic dermatitis shampoos described above or a different shampoo which worked for you, leave your feedback in the comments below.