During my time researching seborrheic dermatitis, olive oil kept coming up as a potential treatment approach. However, digging deeper, the majority of peoples suggested that olive oil would only fuel the problem.
This article examines the subject in detail and aims to get to the bottom of whether or not olive oil (and products that contain it) should really be used by seborrheic dermatitis prone individuals.
What makes olive oil a seemingly good candidate
Olive oil has a long history of use for a variety of skin issues.
Around 1000 BCE, the use of olive oil really began to spread throughout the world. Poor quality oils were the primary lamp fuel, while the more fragrant oils found use in spiritual ceremony, skin treatment, and as a nourishing hair oil [1].
More recently, the popularity of the Mediterranean diet has re-sparked the popularity of olive oil. Very quickly, it became one of the most commonly used food oils among health oriented communities.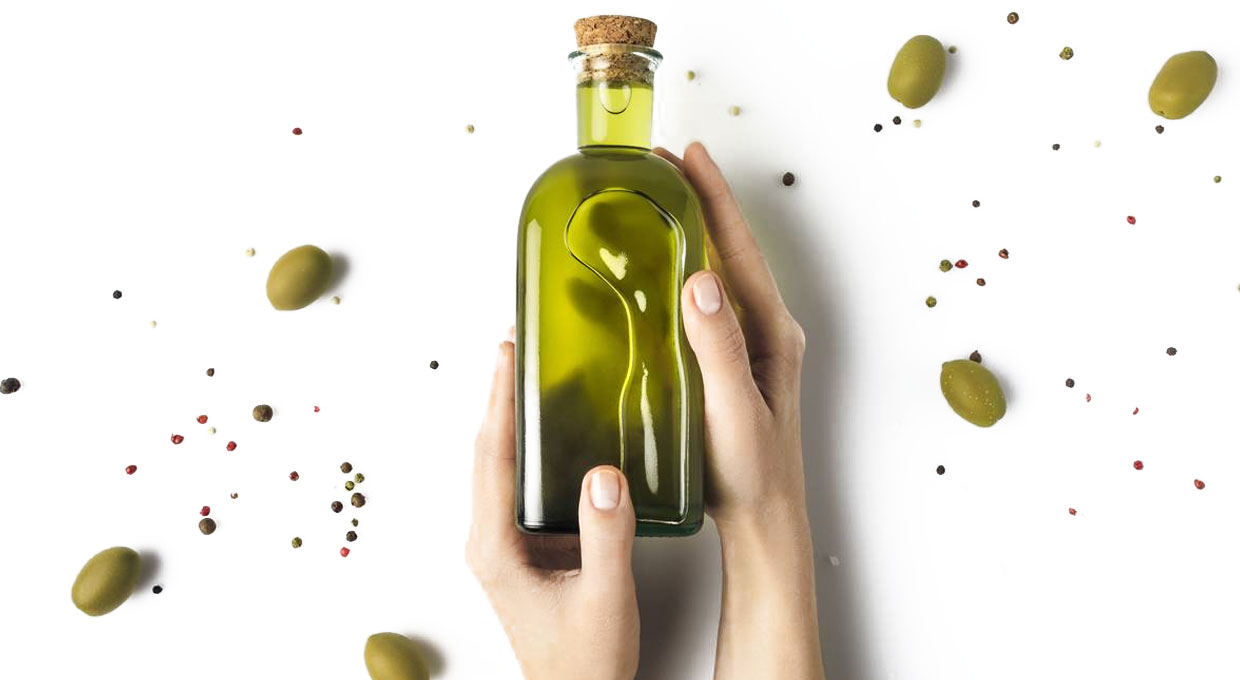 Along-side this rise in use, olive oil also found growing interest as a universal skin moisturizer and olive oil containing skin formulations began to make an appearance. Being an oil, olive oil naturally provides excellent skin emoilience and can reduce moisture loss from the skin surface [2].
Compared to other oils, quality olive oil is exceptionally rich in phenolic compounds [3]. This finding in-turn lead some researchers to theorize that this is where most of the benefit of olive oil comes from [4, 5].
Quick reference to the cause of seborrheic dermatitis
To understand the controversy with olive oil usage for seborrheic dermatitis treatment it makes sense to briefly review the specifics of the condition.
Malassezia yeasts have long been the primary explanation behind seborrheic dermatitis. These are yeasts that live on the skin of humans. They naturally feed on lipids (oils) present in the sebum that our skin produces/uses to build it's moisture barrier. For most people, these yeast are harmless and their presence has not negative consequences.
In those of us unfortunate enough, the presence of these yeasts may indirectly trigger the symptoms of seborrheic dermatitis. Why this is so (issues for some and not for others) is still under heated debate.
The primary theory of the past decade goes as follows:
Malassezia consume the lipids in our sebum and extract certain saturated fatty acids.
The remaining fatty acids are left behind in their more volatile free fatty acid form
Oleic acid is one of these and it's presence damages the skin in prone individuals (due to an immune reaction)
The skin barrier breaks down and seborrheic dermatitis symptoms appear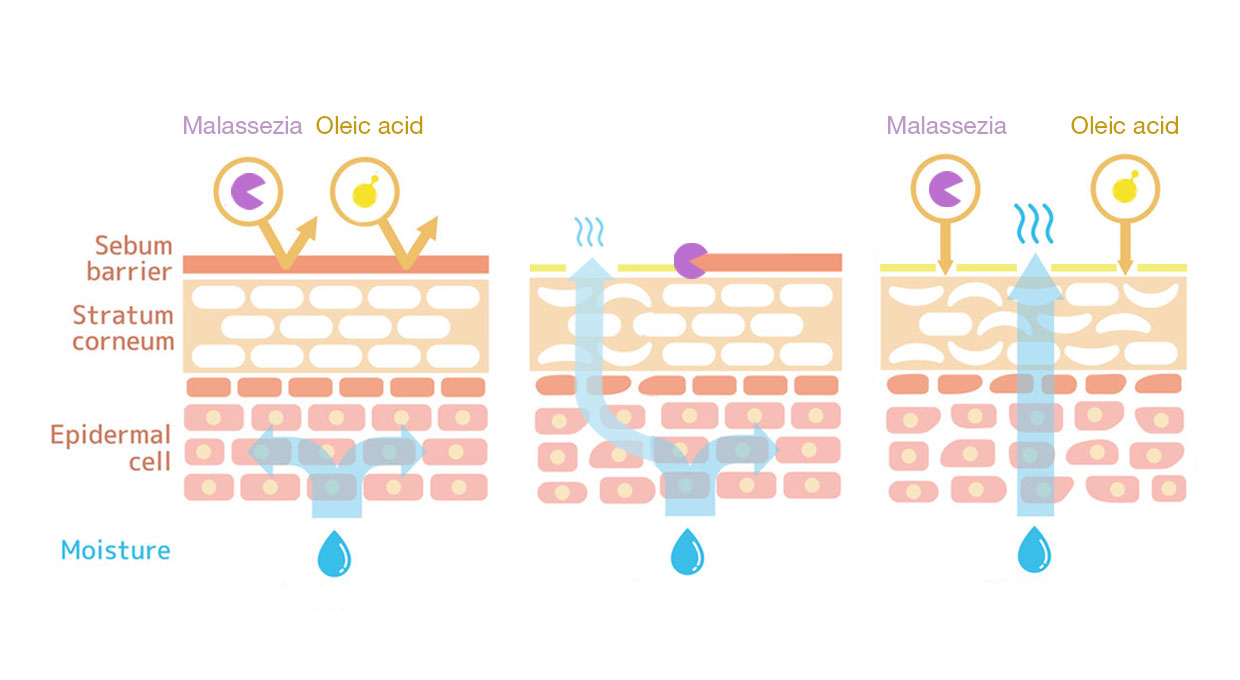 Alternatively, there are other more recent studies (which I believe are far closer to being correct) that suggest completely different mechanisms at play. Nonetheless, the theory outlined above still dominates the discussion.
What makes olive oil a poor candidate
From the above, you see that oleic acid free fatty acids are likely integral part of seborrheic dermatitis. So much so, that even application of these fatty acids directly to the skin can cause the same symptoms – despite the lack of malassezia presence [6].
As the primary fatty acid in olive oil is oleic acid, this very quickly raises a big red flag. After all, applying a rich source of oleic acid doesn't really seem like a great choice for someone who sensitive to it (granted there is a difference between oleic fatty acid in it's triglyceride form and in it's free fatty acid form).
To add further caution:
Olive oil is frequently used in the lab to promote malassezia growth [7]
A small scale study showed olive oil can cause stratum corenuem (top layer of the skin) integrity issues and eventual leads to irritation with constant application [8]
Take together, these potential concerns with using olive oil quickly begin to outweigh the few vague positives.
The minor components and quality of the oil may be the determining factor
Alongside triglycerides (oils), olive oil contains many other unique compounds. This includes vitamin e, phenol compounds, carotenoids, squalene, phytosterols, and chlorophyll.
The level of this compounds found in the oil varies. The general rule is that quality virgin olive oil contains a higher amount, while refined olive oil.
It's quite possible that high quality oil has a higher amount of these compounds and effects the skin differently then low quality oil [5]. However, the number of factors (production process, harvest time, geographic origin) that play a role does make it difficult to ensure consistency.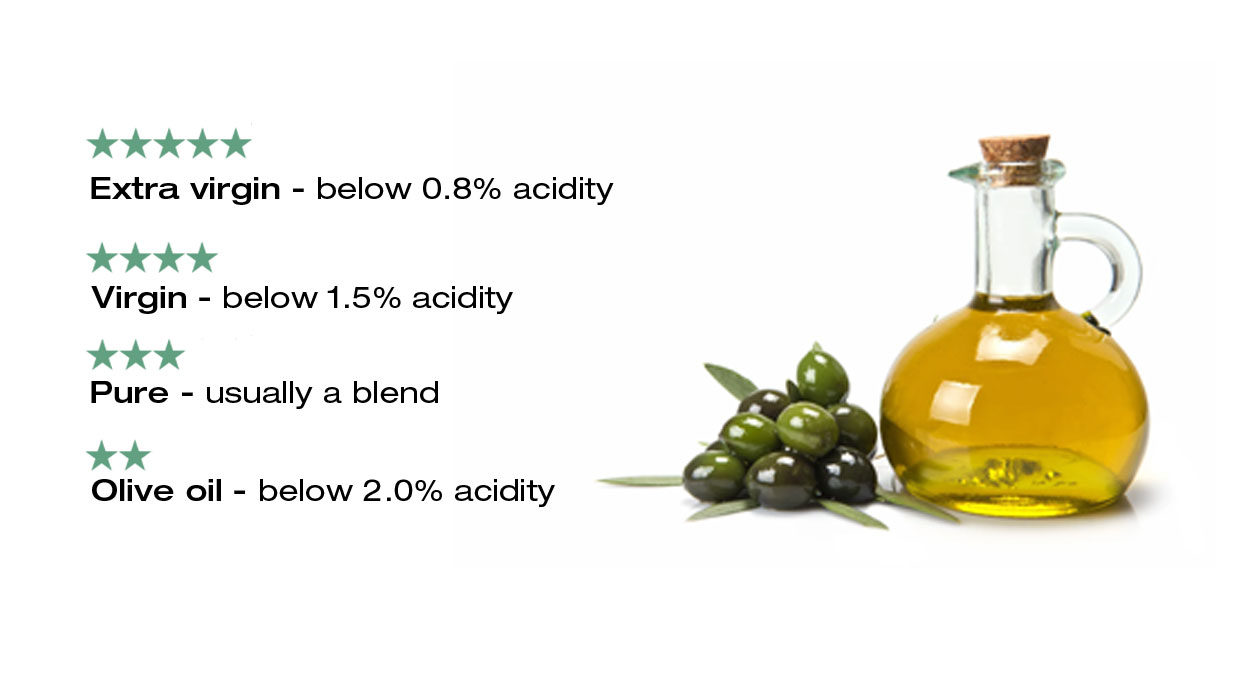 A combination of olive oil, honey, and beeswax does have some support
Quite interestingly, a combination of olive oil, honey, and beeswax has gained the interest of some researchers for the treatment of several skin issues/conditions similar to that of seborrheic dermatitis:
Topical application of natural honey, beeswax and olive oil mixture for atopic dermatitis or psoriasis: partially controlled, single-blinded study [9]
An alternative treatment for pityriasis versicolor, tinea cruris, tinea corporis and tinea faciei with topical application of honey, olive oil and beeswax mixture: an open pilot study [10]
Mixture of Honey, Beeswax and Olive Oil Inhibits Growth of Staphylococcus aureus and Candida albicans[11]
But actually going through these papers, it's the honey that seems to get the most attention. The inclusion of olive oil appears secondary and primarily to "reduce the viscosity of the honey" – make it easier to apply.
Conclusion
Using olive oil for seborrheic dermatitis treatment seems like a poor choice due to it's high oleic acid content.
Many other oils are readily available and have arguably more favorable fatty acids profiles. For example, extra virgin coconut oil (low in oleic acid) [12], cosmetic grade mineral oil (hydrocarbons) [13], and even sunflower oil [14, 15] may all be plausible alternatives.
While some would argue that natural oils should be avoided altogether [16], it's difficult to cast such statements without the data to back it up.
Research suggests malassezia behave differently based on the fatty acids available [17] and removal of natural oils all together can create more issues then it solves [18].