Little Bit of History Behind Ketoconazole and Azole Antifungals
Ketoconazole was first introduced in 1979 and belongs to the azole family of antifungals. Since this time, it has become of most popular antifungals in this group of drugs.
Azoles, as a class, target a specific enzyme of fungal organisms causing damage to the cell membrane and resulting in cell death.
Though the azole antifungal agents were first discovered in 1939 [1], the azole class of antifungals really only started to gain popularity since 1990. During which, these agents underwent the most significant progress in their development.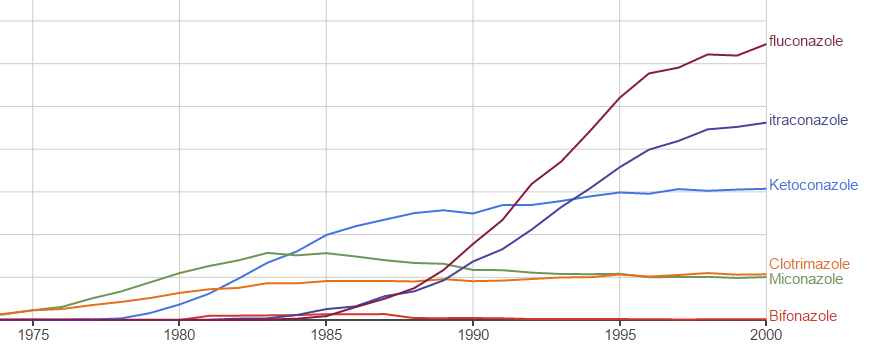 The 1980s and 1990s saw a significant increase in the amount of individuals affected by serious fungal infections [2]. This demand fueled the substantial progress made in that period (irrespective of the high costs associated with new drug development).
How Ketoconazole is Believed to Relieve Seborrheic Dermatitis
Ketoconazole, appears to be one of the most effective of the azoles at destroying the malassezia yeasts in laboratory testing [3].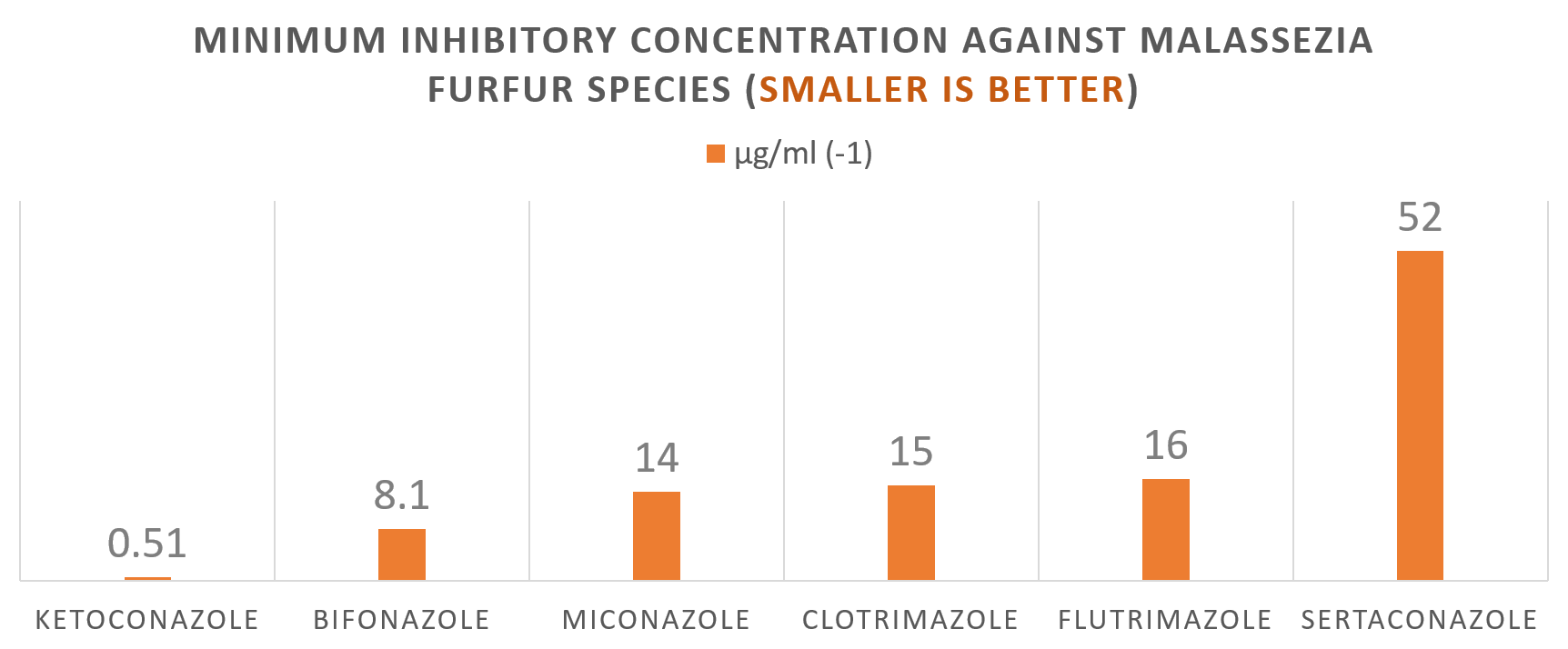 And it is this property which most researches appear to associate with the resulting seborrheic dermatitis relief [4].
There is, however, a more recent 2016 study which argued that ketoconazole's effectiveness against malassezia was really only evaluated in lab settings (in vitro). This study aimed to evaluate ketoconazole treatment outside of the lab (in vivo).
Mentioned study is quite small

The study mentioned here was conducted over a 2 month period on only 6 seborrheic dermatitis affected individuals.

Results showed that even though the number of malassezia fungus present on the skin varied throughout the treatment period, an overall reduction of the fungus did not occur []. And irrespective of the lack of fungus reduction, the treatments produced positive results.
Perhaps there is another non-antifungal property of ketoconazole responsible for it's ability to relieve seborrheic dermatitis. Proposed mechanisms include:
Shift of fungal gene expression (genetic changes to fungal cells resulting in loss of negative effects)
Shift of host gene expression (genetic changes in skin cells leading to improved skin stability and immunity)
Suppression of the inflammatory response to malassezia
Improvement in the skins anti-inflammatory response
Regardless of the method of action, ketoconazole remains one of the most popular prescribed seborrheic dermatitis treatments [5].
Ketoconazole Safety
Generally, topical ketoconazole appears to be safe if used according to the most common 2-3 times per week recommendations [6].
In a study aimed at comparing selenium sulfide (another anti-fungal agent for seborrheic dermatitis) with ketoconazole treatment, none of the individuals treated with ketoconazole reported any adverse experiences [7].
A total of 246 individuals were included in this study. 97 of which were treated with ketoconazole, 100 with selenium sulfide, and 49 with a placebo shampoo. 9 of the 100 individuals treated with selenium sulfide reported adverse experiences [7].
Nonetheless, there have been adverse reactions reported. This list includes:
Hair discoloration
Abnormal hair texture
Itching and burning sensation of the skin
Skin irritation, hypersensitivity and abnormal rash formation
Additionally, the ketoconazole concentration does appear to play a big role in its safety. All the research papers examined used a maximum concentration of 2% (the maximum you will find anywhere for sale anyway). Higher concentrations are likely to produce adverse reactions.
Section Summary
This section went over some of key finding in the usage of ketoconazole for seborrheic dermatitis. Here is a quick summary of this section:
Ketoconazole is one of the most prescribed treatments for seborrheic dermatitis.

It is a drug belonging to the azole class of antifungals, which target a specific enzyme of fungal organisms, resulting in fungal cell death.

Majority of research papers attribute ketoconazole's ability to relieve seborrheic dermatitis to its laboratory proven anti-malassezia potential.

A 2016 study evaluating ketoconazole's real life anti-malassezia activity failed to demonstrate any changes in the fungal populations of the skin.

If seborrheic dermatitis relief is not attributed to ketoconazole's antifungal ability, the results may be coming from potential genetic changes or anti-inflammatory effects.

Ketoconazole's safety profile is well established, but side effects have been reported and precautions should be evaluated before beginning treatment.