This article reviews of popular Japanese anti-dandruff shampoos, with focus on the difference in approach to common North American anti-dandruff agents.
A difference in approach – USA & Japan
The FDA is the main authority that regulates the specific drugs/agents that can claim to treat individual conditions. For seborrheic dermatitis, this list can be found at the following page:
https://www.accessdata.fda.gov/scripts/cdrh/cfdocs/cfcfr/CFRSearch.cfm?CFRPart=358&showFR=1&subpartNode=21:5.0.1.1.30.8
Other countries have their own authorities that regulate the officially approved treatments. Looking at how other countries approach may provide a different perspective and add additional tools to our arsenal.
For Japan, this authority is the PMDA (Pharmaceuticals and Medical Devices Agency). But unfortunately, they do not have an official list similar to the FDA for a specific medical condition and instead, simply approve individual drugs/agents; making cross-referencing a challenge.
According to the Japanese version of the Merck Manual of Diagnosis, the primary active agents used in Japan for the treatment of seborrheic dermatitis are similar to that of the FDA (source):
Zinc pyrithione
Ketoconazole (2% and 1%)
Sulfur and salicylic acid
Selenium sulfide
Tar-containing shampoos (available over-the-counter)
However, it appears a more recent anti-fungal agent more commonly used throughout Europe is also included:
This active agent is not yet officially approved by the FDA and it's difficult to say why this is so. Piroctone olamine exhibits a similar or possibly even better safety profile to the more popular agents used in the USA [1] and many mass-market formulations include it as an off-label active.
The majority of the writing was based on translated articles and product descriptions. If any native Japanese speakers are reading, your input and advice would be appreciated (if some translation or understanding was lost).
Popular Japanese dandruff shampoos
These aren't listed in any specific order, however, formulations with similar active agents are closer together.
Octo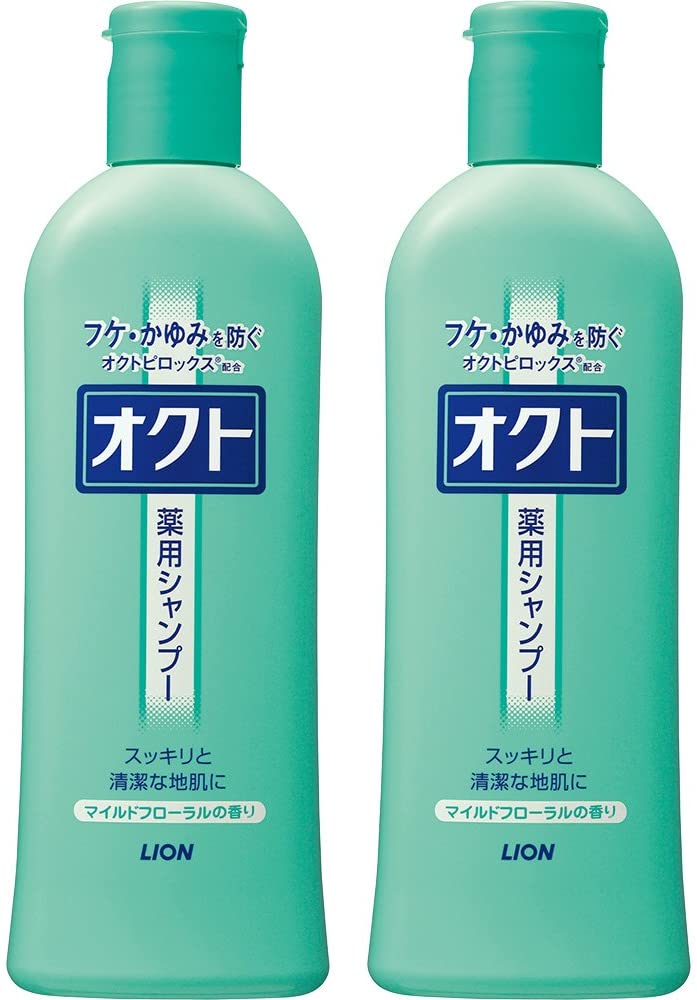 The most widely used anti-dandruff shampoo goes by the name Octo (オクト). And it utilizes Piroctone olamine as the main active ingredient. The retail price for a 320ml bottle equates to roughly 4 USD on Amazon.co.jp (at the time of writing a two-pack can be obtained for ¥816). And it's that the price point is one of the factors which has propelled the product in the Japanese market.
The company also produces a simple hair rinse liquid that is meant to be used post-wash similar to a conditioner. It's a great concept and allows the individual to use whichever shampoo they see fit while giving the active agent the ability for prolonged contact with the scalp.
At a higher price point, the parent company Lion also sells a formulation under the Serapie brand name. But judging simply by the ingredients list, wasn't quite able to make out why the formula is sold at a substantially higher price point (about twice the cost of the primary Octo).

Active ingredients: piroctone olamine; other ingredients: Laureth sulfate Na, lauric acid amide propyl betaine solution, POE lauric acid ethanolamide, hexylene glycol, POE hydrogenated castor oil, distearric acid glycol, lauryl dimethylamine oxide solution, citric acid, perfume, aqueous sulfate Na, monolauric acid polyglylsylsyl, monolauric acid Trimethylammonio hydroxypropyl hydroxyethyl cellulose chloride, dimethyldiarylammonium chloride acrylamide co-polymer solution, metacryloyle ethyl betaine methacryl acid ester co-polymer solution, licorice extraction powder, benzoic acid Na, yellow 203, green 3

Kaminomoto medicated shampoo (加美乃素)

Presented as a more high-end alternative to the more popular Octo, is Kaminomoto. Similarly, it contains piroctone olamine as the main active ingredient.
The price point is significantly higher at ¥1,145 (about $12 USD) and wasn't quite able to understand why this so. A brief review of the formulation didn't give any indication as the surfactant base that appeared was based around the less expensive lauryl sulfate.

Active Ingredients: Β-Glycyrrhetinic Acid, Piroctone Olamine; Other ingredients: Disodium EDTA, Sodium Chloride, Citric Acid, Sodium Salicylate, Butylene Glycol, Sodium Laureth Sulfate, Menthol, Cocamide DEA, TEA-Lauryl Sulfate, Lauryl Betaine, Glycol Distearate, Isodon Trichocarpus Extract, Sophora Angustifolia Root Extract, PEG-75 Lanolin, Yellow 5, Green 3, Fragrance, Water

Amphar Scalp-D (アンファー スカルプD)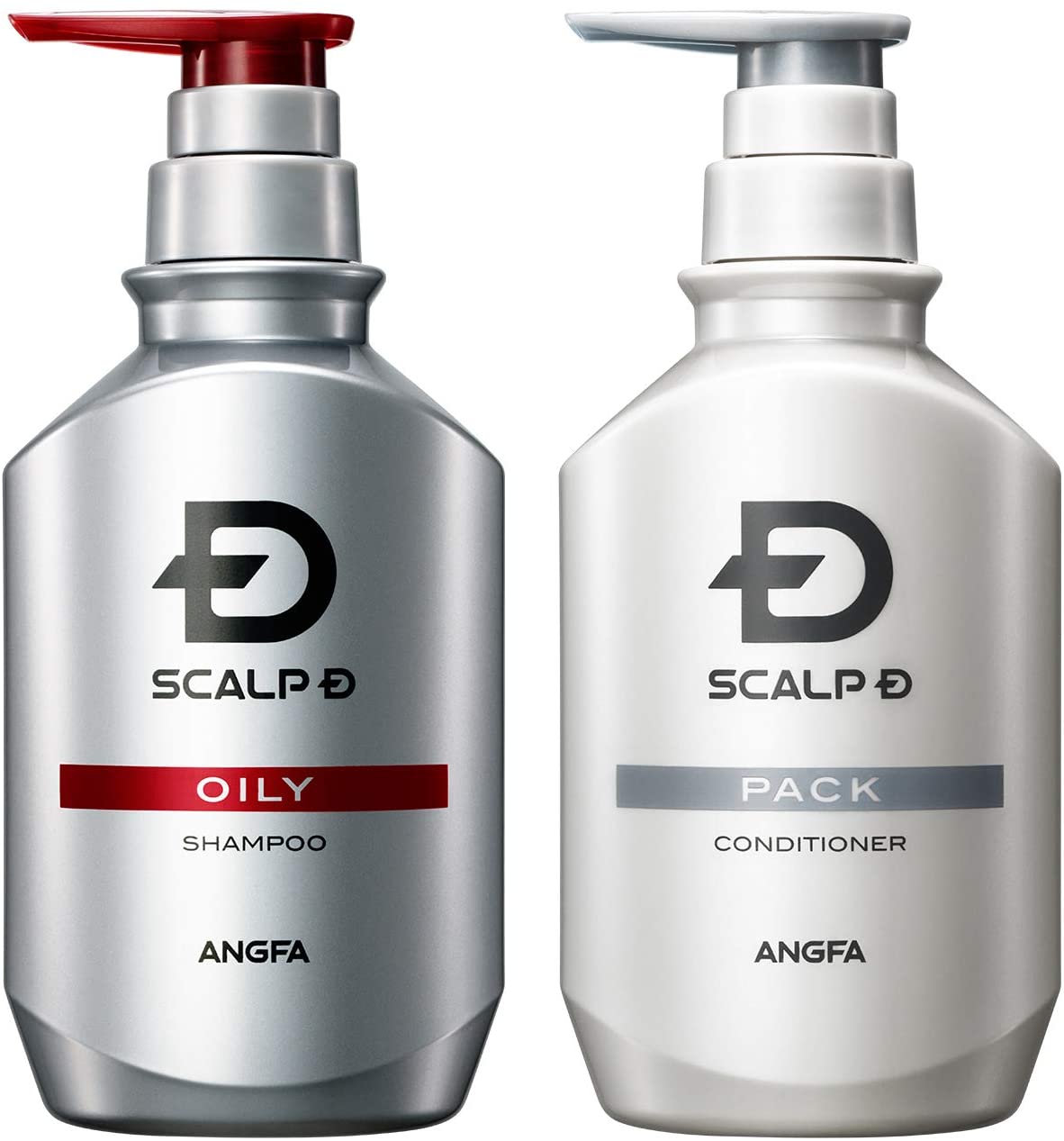 Next up, we have a more premium product range that attempts to tailor to the smaller differences among dandruff sufferers. As opposed to one primary formula, they differentiate each formulation by aiming at individuals scalp conditions:
Oily scalp
Very oil scalp
Dry scalp
Once again, piroctone olamine is the primary active ingredient used in combination with dipotassium glycyrrhizate. However, salicylic acid joins the fight and was likely utilized to deliver quicker relief and clearing of flakes.

Active ingredients: Piroctone Olamine, Dipotassium Glycyrrhizate, Salicylic Acid; Other ingredients: Lactobacillus/soymilk Ferment Filtrate, Sodium Lauroyl/myristoyl Aspartate, Cocamide Dea, Cocamidopropyl Betaine,lauramidopropyl Betaine, Cocamide Methyl Mea, Butylene Glycol, Sodium Methyl Cocoyl Taurate, Sodium Chloride, Polyglyceryl-10 Laurate, Lauramidopropylamine Oxide, Sodium Lauroyl Methylaminopropionate, Eucalyptus Globulus Leaf Oil, Etidronic Acid, Hakka Yu (jtn), Citrus Aurantium Dulcis (orange) Oil, Potassium Cocoyl Hydrolyzed Keratin, Alcohol, Mentha Viridis (spearmint) Leaf Oil, Sorbitol, Panax Ginseng Root Extract, Ethylhexylglycerin, Pentylene Glycol, Sodium Dilauramidoglutamide Lysine, Lactobacillus/royal Jelly Ferment Filtrate, Glycerin, Farnesyl Acetate, Farnesol, Panthenyl Triacetate, Capryloyl Glycine, Phytosphingosine, Glycerylamidoethyl Methacrylate/stearyl Methacrylate Copolymer, Hydrolyzed Codonopsis Pilosula Root Extract, Spiraea Ulmaria Extract, Iris Florentina Root Extract, Pca Ethyl Cocoyl Arginate, Sodium Hyaluronate, Bis-ethoxydiglycol Cyclohexane 1,4-dicarboxylate, Impatiens Balsamina Flower/leaf/stem Extract, Soluble Collagen, Sambucus Nigra Flower Extract, Hydrogenated Lecithin, Citrus Reticulata (tangerine) Peel Extract, Chrysanthellum Indicum Extract, Saccharomyces/caragana Sinica Root Ferment Extract, Cholesterol, Psidium Guajava Leaf Extract, Tocopherol, Potassium Hydroxide, Citric Acid, Sodium Citrate, Sodium Hydroxide, Acrylates Copolymer, Carbomer, Dipropylene Glycol.

Pyroctone olamine dominates the market
You would think that by now, there would be a Japanese formulation using one of the anti-fungal agents more common to the North American market (such as Zinc pyrithione or ketoconazole), but it's not the case. At this point, it looks like the Japanese options are dominated by the use of piroctone olamine.
Head and Shoulders moisture shampoo (エイトアンドエス)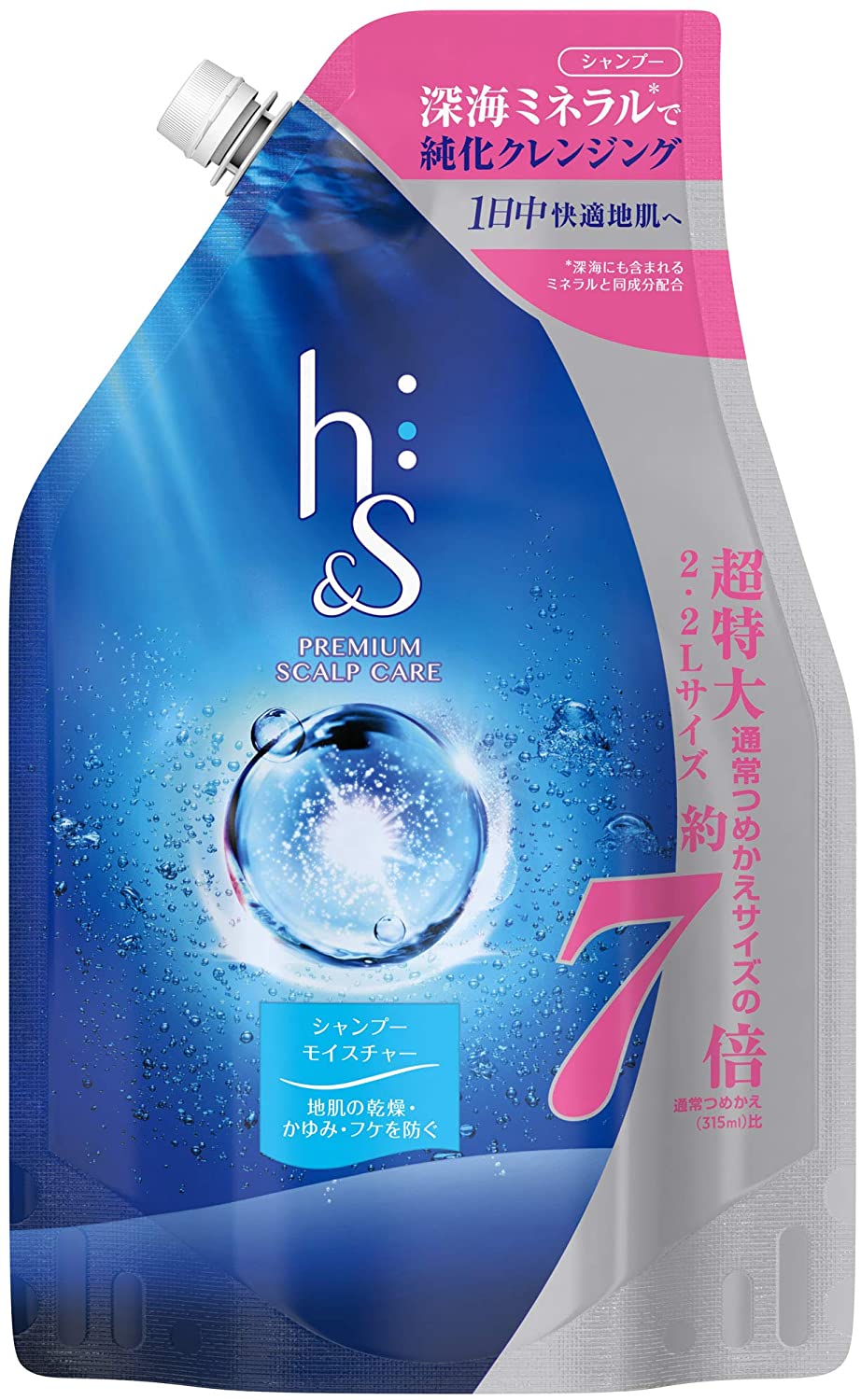 The most popular global anti-dandruff shampoo, Head and Shoulders, also has a presence in Japan. It sticks to its gun and the primary formulations continue to utilize zinc pyrithione for the primary active agent.
There are numerous variants available, all promising to provide their own benefit and targeted at smaller subsets of users (oily scalp, fine hair, male, female, etc). Nonetheless, the active ingredients and base formulation are usually kept the same.
In North American, Head and Shoulders offers separate formulations with other active agents apart from Zinc Pyrithione. Presumably, the same is true for the Japanese market but didn't dig too deep into this for confirmation.

Active ingredients: Zinc pyrithione solution; Other ingredients: Purified water, Benzyl alcohol, Chloride O-[2-hydroxy-3-(trimethyl-ammoniumo) propy], guar gum, sodium benzoate, sodium chloride, polyoxyethylene lauryl ether sulfate, Sodium hydroxide anhydrous, citric acid, methylchloroisozolinone, methylisothiazolinone solution, sodium lauryl sulfate, fragrance, Coconut oil fatty acid, monoethanolamide, setanol, citrate ammonium acid, highly polymerised methyl polysiloxane (1), ethylene distearic acid, glycol, hydrochloric acid

Coco de Odo (ココデオード)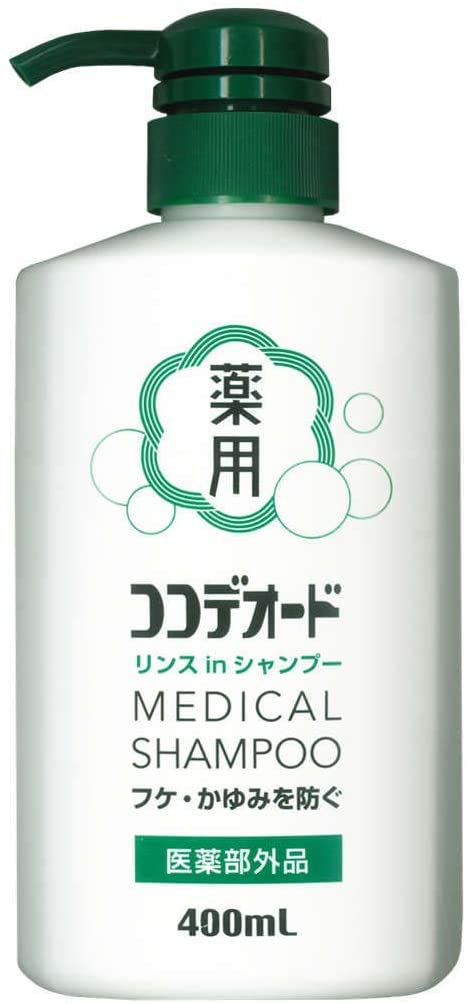 As opposed to the more common anti-fungal agents mentioned thus far, Shirokane utilizes the combination of miconazole (antifungal component) and dipotassium glycyrrhizate as the active agents; possibly emphasizing the importance of a two-pronged approach.
To further vouch for the company's confidence in their unique approach, they also offer the same active ingredient combination as part of a soap bar.

Active ingredient: miconazole nitrate, dipotassium glycinate; Other ingredients: O chloride O-[2-hydroxy-3-(trimethyl anmonianimonia) propyl] hydroxyethyl cellulose, concentrated glycerin, desodium edate, rest Sodium silicate, coconut oil fatty acid amide propyl betaine solution, polyoxyethylene sulfouccinate lauryl disodium solution, lauroyl methyl-beta-alanine sodium solution, coconut oil fatty acid N-methylethanolamide, coconut oil fatty acid diethanolamide, paraoxy benzoic acid ester, Phenoxyethanol, dimethyldial ammonium chloride acrylamide polymer solution, anhydrous sodium thiosulfate, hydrolyzed silk solution, sembri extract, geou extract, carrot extract, sodium chloride, citric acid

The same company also produces a cleansing bar from the same series: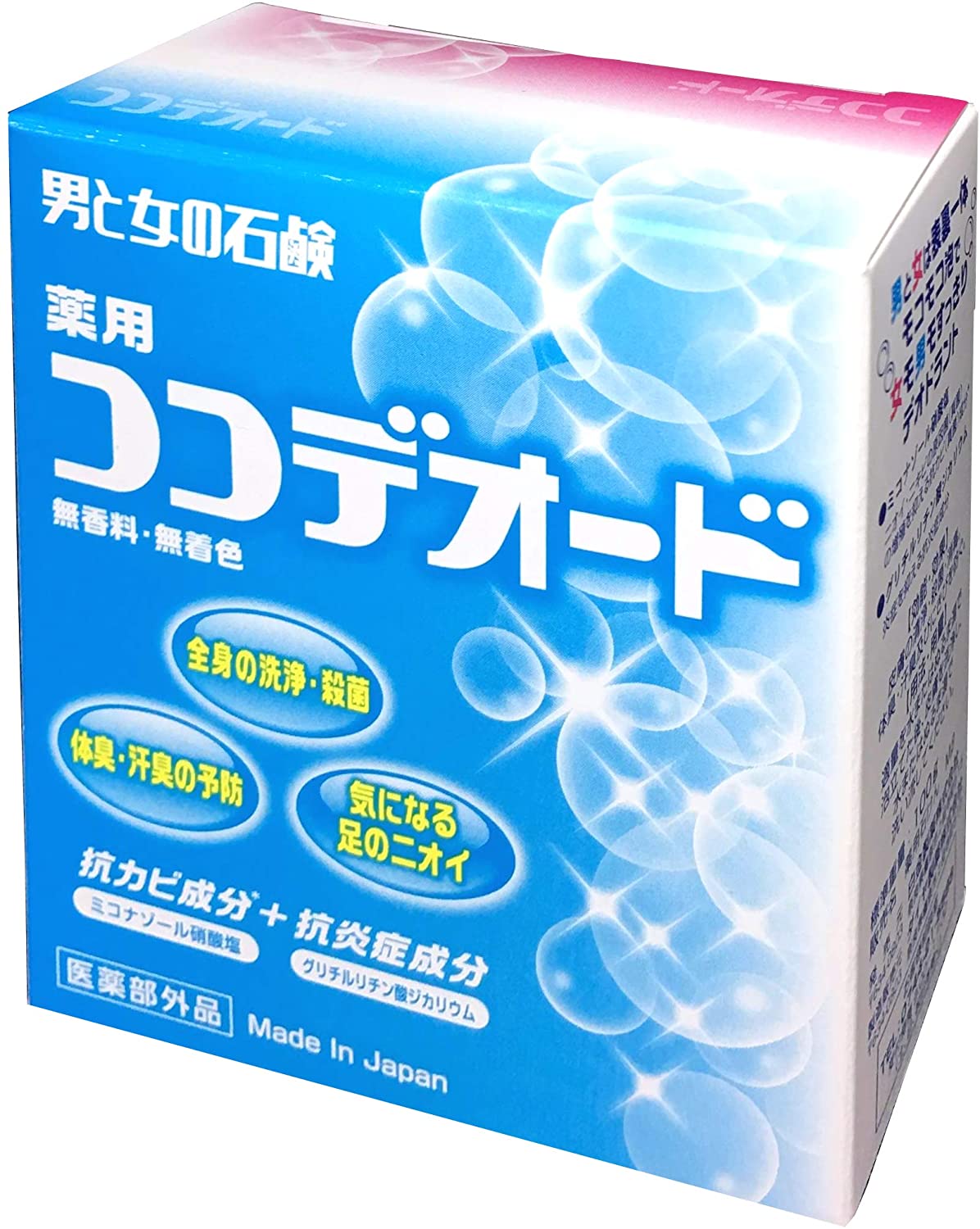 Mediquick (メディクイックH ふけ)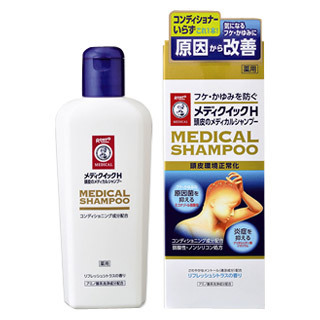 Mediquick is another Japanese formula that promotes the same combination of miconazole and dipotassium glycyrrhizate we've seen with the Shirokane. And to further the less conventional approach, amino acid based cleansing agents are used (in contrast to the more common sodium lauryl sulfate).

Active Ingredients: miconazole nitrate, dipotassium glycyrrhizin acid; Other ingredients: palm oil fatty acid amide propyl betaine solution, cocoyl DL- alanine TEA solution, coconut oil fatty acid diethanolamide, coconut oil fatty acid acyl glutamic acid Na, concentrated glycerin, Turkey red oil, trimethylammonio hydroxypropyl hydroxyethylcellulose chloride , POE dioleate methyl glucoside, glycol distearate, phenoxyethanol, vitamin E, citric acid, hydroxide Na, edetate, menthol, absolute ethanol, perfume

Collage (コラージ)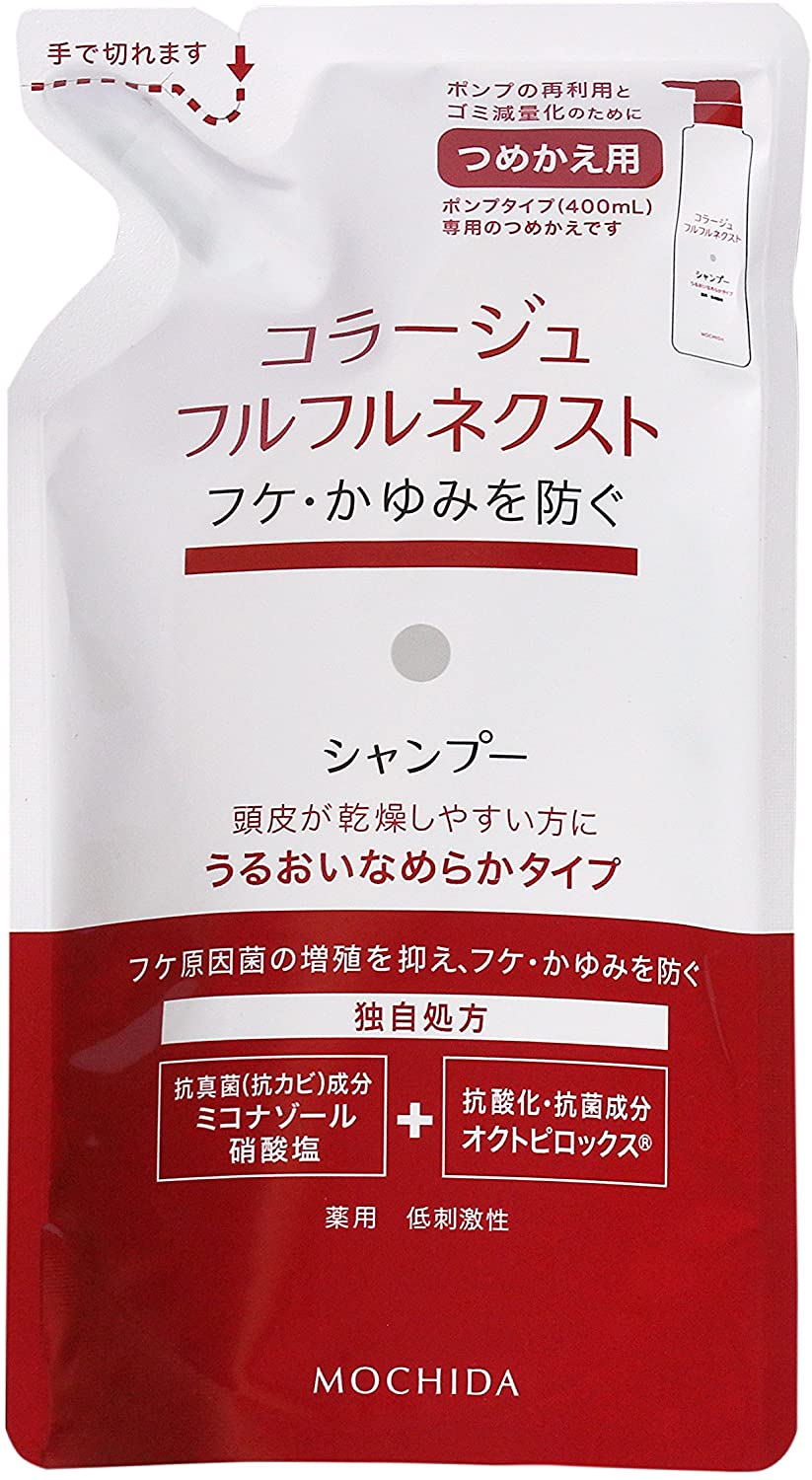 Apart from the unique packaging (which is now quite common in Japan), Collage doubles down on the anti-fungal agents. Instead of choosing just one, it goes with a combination of both miconazole and piroctone olamine.

Active Ingredients: Miconazole nitrate, piroctone olamine; Other ingredients: trimethylglycine, propylene glycol, chloride trimethylammonio hydroxypropyl guar gum, dimethyl diallyl ammonium acrylamide chloride copolymers, alkyl carboxymethyl hydroxyethyl imidazolinium betaine, lauryl dimethyl betaine, coconut oil fatty acid methyl taurine Na solution, coconut oil fatty acid diethanolamide, glycol distearate, anhydrous citric acid, HEDTA-3Na, water

Additional Notes
Many Japanese seborrheic dermatitis treatment resources suggested that symptoms can be minimized by consistent removal of sebum by frequent cleansing/washing [2]
Conclusion
A combination of piroctone olamine (for its anti-fungal effects) and dipotassium glycyrrhizate is commonly implemented in a variety of Japanese anti-dandruff shampoos.
It would be interesting to see how these compare to the most used agents in the USA (zinc pyrithione, selenium, and selenium sulfide). While such comparative studies are sparse, at-least two such studies relative to zinc pyrithione do suggest that piroctone olamine may be the more performant alternative:
"Overall, the shampoo formulation with 0.5% piroctone olamine and 0.45% climbazole effectively reduces the amount of dandruff and, at the same time, provides hair conditioning advantages" [5]
"The combination of piroctone olamine and salicylic acid appeared to be slightly more effective than zinc pyrithione in reducing the severity and area affected by the scaling" [6]
Thank you for reading and hope this discussion proves useful. Please let me know if you spot any details or writing that needs correction.