With so many anti-dandruff conditioners available, how do you know which one to use?
This article reviews several of the most popular anti-dandruff conditioners and evaluates their formulation based on todays understanding of dandruff (a condition whose cause is still not completely clear).
The writing is broken down into three primary sections:
What is dandruff and seborrheic dermatitis
General introduction to conditioners and the principles behind them
Review of popular anti-dandruff conditioners (grouped by active ingredient)
The goal of the writing is not to isolate a single "best" formula, but provide enough knowledge to assist you in your final selection.
In my opinion, there is little reason to isolate a single formula. One person might react to a specific ingredient, while another does not. So, some experimentation is ultimately going to be required.
Hope the writing proves useful and your scalp issues improve.
Basics of Dandruff and Seborrheic Dermatitis
To start the article off, it may be a good idea to provide a quick review of what dandruff and seborrheic dermatitis actually are and what causes them. Having this background knowledge, can help a more educated buying decision and will hopefully eliminate some of the guesswork.
Additionally, a better understanding of the condition will also help in determining whether or not your issues actually dandruff or seborrheic dermatitis in the first place. In some cases, it may be as simple as product build-up or a more difficult to treat condition such as Psoriasis (if you think it may be Psoriasis, the section provides some additional insight).
Primary Symptoms of Dandruff
Though some disagreement exists, the majority of medical literature on the subject defines dandruff as a condition characterized by [1, 2]:
Patches of irritated skin covered with dry flakes and inflammation
In some cases, this can be accompanied by strong itch, excessive sebum production, and hair loss
What Causes Dandruff and Seborrheic Dermatitis
Again some disagreement exists and the primary explanation may change in the future, but at this time the main cause of dandruff and seborrheic dermatitis is believed to be the Malassezia yeast.
Quick Introduction to Malassezia
The malassezia yeast is a commensal skin yeast, meaning it is present on the skin of nearly all adults [3]. In most cases, the yeast lives on the skin and does not cause any unfavorable symptoms for the host (human). Unfortunately for some of us, it's present results in the symptoms commonly known as dandruff.
Why this yeast causes issues for some and not others, is not fully understood. The current explanation is related to individual susceptibility (specific immune response, similar to an allergy), skin barrier stability (top layer of the skin is compromised) and a difference in sebum composition (the oily stuff our skin produces) [4].
Focus on Oleic Free Fatty Acids Instead of Malassezia
Though the yeast is the one usually blamed, some investigators have shown that it's not the yeast themselves that is responsible for the symptoms. Instead, it is the by-products of it's reproductive/feeding cycle [5, 6].
Malassezia are lipid-dependent yeasts, meaning the utilize oils as their primary food source. During this feeding process, they can oxidize the lipids naturally present on the skin surface and produce free fatty acids as a by-product. Free fatty acids are individual components of lipids.
The one of most relevance is a specific free fatty acid by the name of oleic acid. Oleic free fatty acids in the absence of malassezia have been shown to cause the exact symptoms collectively known as dandruff and seborrheic dermatitis [4]. For this reason, researchers have put forward the hypothesis that it is not the malassezia themselves that cause dandruff, but the oleic free fatty acids they leave behind.
Differences Between Seborrheic and Dandruff
The difference between dandruff and seborrheic dermatitis is quite vague. For the most part, dandruff is believed to be a more mild form of seborrheic dermatitis isolated to the scalp [7]. Alternatively, some have proposed that seborrheic dermatitis is a physically different condition with unique clinical features [8].
Fundamentals of Dandruff Treatment
Since dandruff and seborrheic dermatitis are both believed to be caused by a yeast (malassezia), the primary treatment approach is through anti-fungal agents. The presence of an anti-fungal reduces the activity of the malassezia and has been shown to be one of the most effective treatment approaches to the condition.
More recent exploration has shown to that an approach that not only aims to reduce malassezia activity, but also improves barrier function amplifies the effectiveness of treatment [9, 10]. Thus, focusing solely on reducing the malassezia numbers alone may not be the best approach for the long term.
Basics of Conditioner Formulas and Benefits
While shampoos are formulated to clean the hair and scalp, removing excess oil, dirt, and debris, conditioners are designed to restore moisture to the scalp, improve combability, and supplement the hair with added agents to improve look and feel.
One way to think of it is a conditioner is like a skin cream designed for the hair and scalp.
Basics Components of a Conditioners
Most conditioners are composed of several agents:
An oily or wax substances – provide most of the functional benefits
Active ingredients – perform specific functions
Surfactants – provide foaming and cleansing
Emulsifiers – allow oils to become water soluble and improves rinsability
Aborsbtion ehanching agents – improve penetration
Viscocity modifiers – change the texture for more pleasant Equate
pH adjusters/stabilizers – modify the pH value for better skin/hair comptability
Colors – more appealing presentation
Parfum – provide specific scent
Preservatives – ensure the product is shelf stable
The specific balance of each is then adjusted/modifying to achieve a specific outcome required by the formulator. In some cases, some components are removed, while others are emphasized.
Key Component of Anti-Dandruff Conditioners
As discussed earlier, the primary focus of dandruff treatment is to reduce malassezia activity on the skin surface. By reducing malassezia presence, the primary source of oleic free fatty acid production is eliminated and the symptoms are kept in check.
Anti-fungal agents are the most common approach to reducing malassezia activity. The work by inhibiting various components of the yeast cell, causing either cell death or inability to reproduce (different anti-fungal agents work based on different principles).
Accordingly, anti-dandruff conditioners utilize various anti-fungal agents as part of the overall formulation to achieve the clearance of symptoms [11].
The most popular anti-fungal agents used in anti-dandruff conditioners are zinc pyrithione, sulfur, and tea tree oil. Salicylic acid (though not an anti-fungal agent) has also shown some potential in reducing symptoms, but its effectiveness may not be enough on its own it (combination with an anti-fungal enhances effectiveness).
Other more common anti-fungal agents used in shampoos (such as ketoconazole, selenium sulfide, and coal tar) are not usually seen in conditioner formulations. Though the reason is not clear, it's most likely related to safety concerns when it comes to the leave-on application of these agents (conditioners are usually designed to leave ingredients on the skin).
The dark side of shampoos and conditioners
Evidence suggests that many modern shampoos and conditioners can be damaging to the hair and may cause skin irritation. If overused, these effects can become more pronounced and be counterproductive to your primary objective.
Don't Forget About Barrier Integrity
Selection of the specific anti-fungal agent used in a formula is usually the area that gets the most focus from individuals looking for a suitable conditioner. However, one often overlooked factor, which may be just as important, is the formulas overall impact on barrier integrity.
To put this back into focus, one needs to understand that malassezia yeast are present on the skin of even healthy individuals. It is only for a subset of us, that the yeast causes the symptoms we know as dandruff and/or seborrheic dermatitis. In these individuals, it is believed that the barrier of the skin is compromised and this results in heightened sensitivity to the oleic acid produced by the malassezia yeast.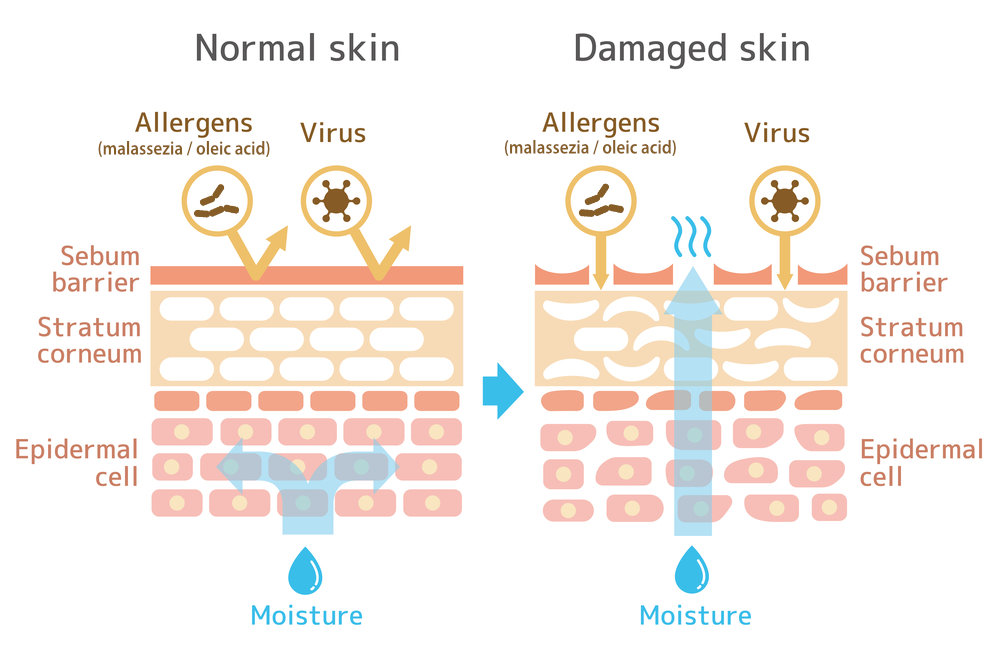 Thus, in order to control symptoms, it's reasonable to not only focus on reducing the malassezia activity, but to also focus on improving barrier stability, helping the skin better resist the remaining yeast population.
Anti-Dandruff Conditioner Round-up and Review
It's difficult to single out any specific "best" conditioner as individuals are likely to react differently to the various ingredients used in any given formulation. Instead, it may be worthwhile to provide a set of evaluation criteria that can help you select the right conditioner.
Criteria for Evaluating Anti-Dandruff Conditioners
First, let's quickly review some of the factors which I believe have the most weight in terms of finding the right anti-dandruff conditioner:
Aggregate used feedback – how well the conditioner is rated across different online sources and shopping platforms, with specific attention for use in dandruff treatment
Ingredients used – overall benefit and irritation potential of the ingredients that appear on the label
Preservative system – what preservative system has been utilized, it's safety record, and the chance of irritation
Cost and availability – how sustainable is it for real-life usage
Rating of Popular Anti-Dandruff Conditioners
This list of conditioners is not all-inclusive, there are probably other conditioners out there that may be just as good or better than some of the options mentioned.
The conditioners reviewed here are simply those that I believe have unique features which may be of use for the treatment of dandruff. There is one candidate discussed per active ingredient (with the exception of zinc pyrithione, which has two featured candidates).
A list of possible alternatives for each active ingredient is also featured.
Head & Shoulders – Classic Clean – Zinc Pyrithione Conditioner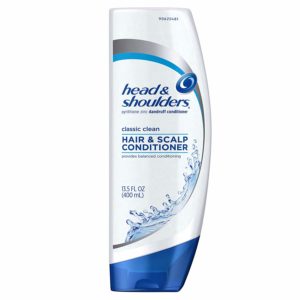 Active Ingredient: Pyrithione Zinc 0.5% Inactive Ingredients: Water, Stearyl Alcohol, Cetyl Alcohol, Stearamidopropyl Dimethylamine, Glutamic Acid, Dimethicone, Fragrance, Phenoxyethanol, Benzyl Alcohol, Citric Acid, Sodium Chloride, Methylchloroisothiazolinone, Methylisothiazolinone.
Let's start the list with the most common anti-dandruff conditioner, Head & Shoulders.
A good representation of a typical conditioner formula from the makers of the worlds most popular anti-dandruff shampoo
Utilizes zinc pyrithione as it's primary anti-fungal agent (a more throughout discussion is available in the section)
Zinc pyrithione is the single most popular anti-dandruff agent used in conditioners, likely related to its strong safety record and easy integration into a wide variety of formulas
The formula depends on a combination of Methylisothiazolinone and Methylchloroisothiazolinone for preservation; which have been associated with contact dermatitis [12]
Added fragrance increase the chance of irritation for individuals with an extremely sensitive scalp and damaged barrier
Being a mass market product, you're going to get a lot of value and you're likely to find it in the majority of stores
Other Zinc Pyrithione Containing Conditioners
Equate Color Safe Dandruff Conditioner with Pyrithione Zinc

Active Ingredient: Pyrithione Zinc 0.3%. Inactive Ingredients: Water (Aqua), Stearyl Alcohol, Behentrimonium Chloride, Cetyl Alcohol, Dimethicone, Cocos Nucifera (Coconut) Oil, PPG-3 Benzyl Ether Ethylhexanoate, Fragrance (Parfum), Lauryl PEG/PPG-18/18 Methicone, Hydroxyethylcellulose, Sodium Hydroxide, Methylchloroisothiazolinone, Methylisothiazolinone.

NIOXIN – Scalp Recovery Moisturizing Conditioner

Active ingredient: Zinc Pyrithione. Inactive ingredients:Water, Stearyl Alcohol, Cetyl Alcohol, Stearamidopropyl Dimethylamine, Dimethicone, Glutamic Acid, Benzyl Alcohol, Phenoxyethanol, Fragrance, Propylparaben, Methylparaben, Citric Acid, Mentha Piperita (Peppermint) Oil, Mentha Arvensis Leaf Oil, Menthol, Camellia Sinensis Leaf Extract, Yeast Extract, Lecithin, Saccharomyces/Magnesium Ferment, Biotin/Folic Acid/Cyanocobalamin/Niacinamide/Pantothenic Acid/Pyridoxine/Riboflavin/Thiamine/Yeast Polypeptides, Saccharomyces/Iron Ferment, Saccharomyces/Copper Ferment, Saccharomyces/Silicon Ferment, Saccharomyces/Zinc Ferment.

MIZANI – Scalp Care Pyrithione Zinc Antidandruff Conditioner

Pyrithione Zinc 1.00%, Water, Cetearyl Alcohol, Behentrimonium Chloride, Glycerin, Peg-180, Amodimethicone, Cetyl Esters, Isopropyl Alcohol, Fragrance, Methylparaben, Hydroxyethylcellulose, Menthol, Trideceth-6, Benzyl Benzoate, Benzyl Alcohol, Benzyl Salicylate, Chlorhexidine Dihydrochloride, Citronellol, Cetrimonium Chloride, Geraniol, Mentha Piperita (Peppermint) Oil, Alpha-Isomethyl Ionone, Rosmarinus Officinalis (Rosemary) Leaf Oil, Pelargonium Graveolens Flower Oil, Lavandula Hybrida Oil, Cucumis Sativus (Cucumber) Fruit Extract, Curcuma Longa (Turmeric) Root Extract, Sclareolide, Rose Flower Oil, Jasminum Officinale (Jasmine) Extract.

Mane 'n Tale – Daily Control – Anti-Dandruff Conditioner

Active Ingredient: Zinc Pyrithione. Inactive Ingredients: Water/Aqua/Eau, Cetyl Alcohol, Cetearyl Alcohol, Stearyl Alcohol, Hydroxyethyl Ethylcellulose, Behentrimonium Chloride, Fragrance (Parfum), Dimethicone, Hydrogenated Polydecene, DMDM Hydantoin, Polysorbate 60, Steareth-20, Distearyldimonium Chloride, PEG-150 Stearate, Olea Europaea (Olive) Fruit Oil, Prunus Amygdalus Dulcis (Sweet Almond) Seed Oil, Butyrospermum Parkii (Shea Butter), PEG-8 Amodimethicone, Lauryl Alcohol, Triethanolamine, Stearamidopropyl Dimethylamine Lactate, Keratin Amino Acids, Hydrolyzed Wheat Protein, Citric Acid, Panthenol, L-Arginine, with Extracts of*: Aesculus Hippocastanum (Horse Chestnut) Seed*, Equisetum Arvense (Horsetail) Leaf*, Larrea Divaricata (Chaparral), Spiraea Ulmaria (Meadowsweet) Flower, Trifolium Pratense (Clover) Flower, Tussilago Farfara (Coltsfoot) Flower*, Blue #1 (CI 42090), Niacin, Yellow #5 (CI 19140), Benzyl Benzoate, Hyrdroxycitronellal, Butylphenyl Methylpropional, Limonene, Linalool, Alpha-isomethyl Ionone
Sulfur8 Medicated – Regular Formula – Sulfur Anti-Dandruff Conditioner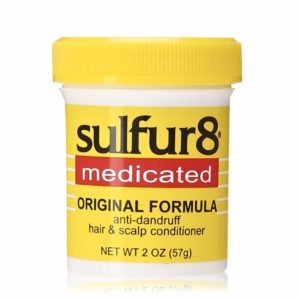 Active Ingredient: Sulfur 2% Antidandruff Inactive Ingredient: Petrolatum, Lanolin, Sorbitan, Trioleate, Polysobate-81, Mineral Oil, Menthol, Triclosan, frgrance
A less common conditioner which utilizes sulfur as the active ingredient to reduce malassezia activity. The popularity is likely limited by its strong odor.
An extremely basic conditioner that is more like a heavy cream then a typical conditioner
Utilizes sulfur for it's documented benefits of dandruff and seborrheic dermatitis treatment [13]
Overall positive feedback, but some individuals complain about the heaviness/greasiness and irritation
The packaging (an open lid tub) provides the risk of contamination and spoilage from the environment; thus, Triclosan was used as the preservative
Some concerns exist regarding the use of Triclosan in cosmetics, however, it is commonly used in the clinical environment to increase hand washing effectiveness [14, 15]
A "light" version exists, but based on the ingredients is also likely to be quite heavy and not drastically different
Availability appears to be limited to Amazon and other online retailers
The price (~$6) can appear high for the small quantity (57 grams), but since there is no water, a little is likely to go a long way (common conditioners can be 70-80% water)
Other Sulfur Containing Conditioners
Dr. Robaina – Sulfur Balsam Conditioner

Purified Water, Vegetable-based Emulsifying Conditioning Waxes, Shea Butter, Colloidal Oatmeal, Sulfur Powder, Vitamin A, C, D3, E, Wheat Germ Oil, Jaborandi Pennatifolius Extract, Quina Extract, Capsicum Extract, Polllen Extract, Amica Extract, Nettle Extract, Pfaffia Extract, Egg Yolk Extract, Tea Tree Oil – Likely incomplete ingredients list
Derma E Scalp Relief – Salicylic Acid Anti-Dandruff Conditioner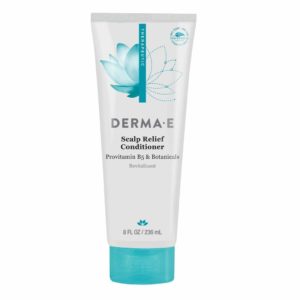 Purified Water, Cetearyl Alcohol (Plant Derived), Glycerin (Vegetable Derived), Propanediol (Vegetable Derived), Behentrimonium Methosulfate, Coco-Caprylate (Coconut Derived), Salix Alba (White Willow) Bark Extract, Diheptyl Succinate, Capryloyl Glycerin/Sebacic Acid Copolymer, Epilobium Angustifolium (Canadian WillowherbTM) Extract, Organic Chamomilla Recutita (Matricaria) Flower Extract*, Menthol, Salicylic Acid, Arctium Lappa (Burdock) Root Extract, Zanthoxylum Zanthoxyloides (Fagara) Bark Extract, Arctostaphylos Uva-Ursi (Bearberry) Leaf Extract, Melia Azadirachta (Neem) Leaf Extract, Coptis Chinensis (Chinese Goldthread) Root Extract, Panthenol (Provitamin B5), Prunus Amygdalus Dulcis (Sweet Almond) Oil, Melaleuca Alternifolia (Tea Tree) Leaf Oil, Organic Argania Spinsosa (Argan) Kernel Oil*, Organic Aloe Barbadensis (Aloe Vera) Gel Extract*, Allantoin, Phenoxyethanol, Ethylhexylglycerin.
Positioned as a more natural approach that brings together a long list of herbs and natural actives to provide various hair and scalp benefits.
Utilizes salicylic acid to promote the breakdown of the top layer of skin, improving visual appearance and reducing the presence of flakes [16, 17]
Overall positive reviews, with specific praise regarding the primarily natural composition of the formula
Some have reported lack of results, but this can be expected with any treatment approach
In medical reviews, salicylic acid works best if paired with an anti-fungal agent; in this case, tea tree oil has been utilized [18, 19]
Overall, the mix of ingredients looks enticing, but it's hard to say whether or not the variety of extracts have enough functional benefit; the downside, is that the variety also increases the chance for irritation
The preservative system depends on a Phenoxyethanol coupled with Ethylhexylglycerin; which is considered a fairly mild approach, but again the chance of irritation exists [20, 21]
Though the price leans towards the higher end of the spectrum, it remains affordable with minimal usage
Availability is surprisingly good and many stores that have a natural products section carry it
Other Salicylic Acid Containing Conditioners
Collective Wellbeing – Citrus – Salicylic Acid Scalp Conditioner

Deionized Water, Behetrimonium Chloride, Cetearyl alcohol, Glyceryl Stearate, Glycerin, Emulsifying Wax NF, Salicylic Acid, Gluconolactone, Sodium Benzoate, Aloe Barbadensis Leaf Juice, Hydrolyzed rice Protein, Hydrolyzed Wheat Protein, Hydrolyzed Sweet Almond, Hydrolyzed Soy Protein, Cera Alba (Beeswax), Guar Hydroxypropyl Trimonium Chloride, Butyrospermum Parkii (Shea Butter), Cocos Nucifera (Coconut) Oil, Olea Europaea (Olive) Fruit Oil, Lavandula Officinalis (Lavender) Essential oil, Dimethicone, Tocopherol (Vitamin E), Panthenol (Vitamin B5), Ylang Ylang (Canaga Odorata) Flower Oil, White Grapefruit (Citrus Paradisi) Peel Oil.

Avalon Organics – Anti-Dandruff Conditioner

Active Ingredient: Salicylic Acid 2.0% (Controls symptoms of dandruff, seborrheic dermatitis and psoriasis) Inactive ingredients: Aloe Barbadensis Leaf Juice(1), Glyceryl Stearate SE, Stearic Acid, Caprylic/Capric Triglyceride, Cetyl Alcohol, Capryloyl Glycerin/ Sebacic acid Copolymer, Stearyl Alcohol, Helianthus Annuus (Sunflower) Seed Oil(1), Diheptyl Succinate, Olea Europaea (Olive) Fruit Oil(1), Butyrospermum Parkii (Shea) Butter(1), Cedrus Atlantica Bark Oil, Citrus Aurantium Dulcis (Orange) Peel Oil, Citrus Limon (Lemon) Peel Oil, Copaifera Officinalis (Balsam Copaiba) Resin, Coriandrum Sativum (Coriander) Fruit Oil, Geranium Maculatum Oil, Lavandula Angustifolia (Lavender) Oil, Melaleuca Alternifolia (Tea Tree) Leaf Oil(1), Mentha Piperita (Peppermint) Oil, Pogostemon Cablin Oil, Rosmarinus Officinalis (Rosemary) Leaf Oil, Simmondsia Chinensis (Jojoba) Seed Oil(1), Chamomilla Recutita (Matricaria) Flower Extract(1), Chenopodium Quinoa Seed(1), Eucalyptus Globulus Leaf Extract(1), Lavandula Angustifolia (Lavender) Flower/Leaf/Stem Extract(1), Rosmarinus Officinalis (Rosemary) Leaf Extract(1), Styrax Benzoin Resin Extract, Tocopheryl Acetate, Aqua (Water), Menthol, Xanthan Gum, Alcohol(1), Benzyl Alcohol, Sodium Benzoate, Potassium Sorbate, Limonene. (1)Certified Organic Ingredient.
Paul Mitchell – Tea Tree Special Conditioner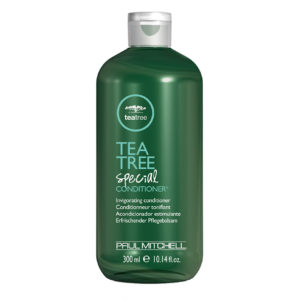 Aqua (Water, Eau), Cetearyl Alcohol, Isohexadecane, Isododecane, Behentrimonium Methosulfate, Melaleuca Alternifolia (Tea Tree) Leaf Oil, Hedychium Coronarium (White Ginger) Flower/Leaf/Stem Extract, Algae Extract, Aloe Barbadensis Leaf Extract, Rosmarinus Officinalis Leaf Extract, Anthemis Nobilis Flower Extract, Simmondsia Chinensis Leaf Extract, PPG-5-Ceteth-20, Citric Acid, Tetrasodium EDTA, Magnesium Nitrate, Bisamino PEG/PPG-41/3 Aminoethyl PG-Propyl Dimethicone, PEG-12 Dimethicone, Sodium Glycolate, Methylisothiazolinone, Methylchloroisothiazolinone, Magnesium Chloride, Sodium Hydroxide, Parfum (Fragrance), Limonene, Cl 42090 (Blue 1), Cl 19140 (Yellow 5).
A popular choice among professional hair salons, this conditioner utilizes the natural effectiveness of tea tree oil.
Basic conditioner formula similar to that of the Head and Shoulders, with the added benefit of various herbal extracts and the replacement of zinc pyrithione with tea tree oil
Preservative system used is the same as the primary Head and Shoulders conditioner formula
Many positive reviews when it comes to dandruff control, but some individuals have noted it can be drying and is not the best overall conditioner
Since it's targeted for usage and sale through salons, availability is usually quite good, but the cost can be quite high
Some may find the usage of solely tea tree oil a big plus; many other tea tree oil-containing conditioners add various other essential oils which increases the chance of irritation
Other Tea Tree Oil Containing Conditioners
Trader Joe's Tea Tree Tingle Conditioner

Ingredients: Water, Tea Tree Oil, Peppermint Oil, Eucalyptus Oil, Nettle Oil, Thyme Oil, Birch Leaf Oil, Chamomile Oil, Clary, Coltsfoot Leave, Yarrow Oil, Mallow, Horsetail Oil, Soybean Protein, Cetyl Alcohol (Plant Derived), Tocopherol (Vitamin E), Trace Minerals, Citric Acid (Corn), Sodium Hydroxymethglycinate, Grapefruit Seed (Citrus Derived)

OGX Conditioner Hydrating TeaTree Mint

Water (Aqua), Cetearyl Alcohol, Behentrimonium Chloride, Cetyl Alcohol, Glycerin, Ceteareth-20, Fragrance (Parfum), Melaleuca Alternifolia (Tea Tree) Leaf Oil, Hydrolyzed Milk Protein, Mentha Piperita (Peppermint) Oil, Panthenol, Glycol Distearate, Glycol Stearate, DMDM Hydantoin, Isopropyl Alcohol, Dimethicone, Cyclopentasiloxane, Dimethiconol, Tetrasodium EDTA, Methylchloroisothiazolinone, Methylisothiazolinone, Yellow 5 (CI 19140), Blue 1 (CI 42090)
Additional Topics to Consider
Now that you have a good general understanding of seborrheic dermatitis, what makes a good conditioner, and some options that may be worth considering, let's review some additional factors you may find relevant.
Can a Conditioner Replace a Shampoo
Some individuals question the need for shampoos when it comes to daily usage. Particularly because they are known to strip the skin of the acid mantle it works so hard to maintain and many surfactants (the primary functional component of a shampoo) can cause significant barrier disruption and irritation.
Thus, if your scalp health is poor and your constantly having to fight off bouts of dandruff and severe scalp irritation, it may simply be that you're over cleansing/cleaning the scalp. Resulting in poor barrier integrity, heightened sensitivity, and excessive transepidermal water loss (moisture loss).
Along this line of thought, many individuals are now looking for ways to reduce their dependence on modern shampoos.
One of these methods is the use of a conditioner instead of a shampoo on a regular basis and only use a shampoo when really necessary (if your hair is getting really dirty). This would theoretically provide all the functional benefits the conditioner has to offer, without stripping the acid mantle and causing too much barrier disruption.
This practice is called "co-washing", short for conditioner washing.
Many individuals now embrace this approach and you can find a liberal amount of positive feedback spread around online.
Can a conditioner cleanse the scalp?
Though it's open to discussion, in theory, if a conditioner is designed to rinse well, it may provide some cleansing action. Stearyl alcohol and cetyl alcohol, for example, are considered to be mild surfactants and may provide some cleansing action.
On the other hand, heavier conditioners that do not rinse well would be bad candidates for this approach. As the end result would be a build of conditioner and excessive greasiness.
Switching to the co-wash method may require some initial perseverance
Your skin adapts to your daily routine. If you've been using a shampoo on a regular basis your skin compensates by increasing sebaceous gland output [22]. Abruptly switching to a conditioner only approach, you're likely to experience an initial surge in sebum build-up. Give the skin a few weeks time to adjust.
Finding a Good Co-Wash Formula for Dandruff Control
Some possible formulas that may good candidates for using the co-wash approach specifically for dandruff treatment include:
Head & Shoulders Moisture Care Dandruff Co-Wash Conditioner
Trader Joes Tea Tree Tingle Conditioner
Cantu Refresh Apple Cider Vinegar Dry Co-Wash
Herbal Essences Naked Cleansing Conditioner – contains zinc pyrithione
Again, different individuals can see drastically different progress from any of these candidates. If something is not working, don't give up and keep trying with a different approach or active ingredient.
Reversing Dandruff Associated Hair Loss
Many individuals affected by dandruff also suffer from significant hair loss. If your unfortunate enough to fall into this category, reversing the hair loss and improving hair growth can be just as important for you as dealing with dandruff.
This topic has been discussed in significant detail in a previous article:
Reversing Seborrheic Dermatitis and Hair Loss
Though the article doesn't mention the use of conditioners, some of the points are still relevant when selecting a conditioner:
Excessive scale buildup and blockage of hair follicles is likely the primary source of hair loss for individuals affected by dandruff
Anti-fungal agents have been shown to improve hair growth and reverse hair loss
Hair promoting agents may be helpful in accelerating the rate of hair growth
Improving circulation may also prove worthwhile, but too much stimulation and physical aggravation may create the opposite effect
Personal Opinion on Using a Conditioner for Dandruff
Overall, I strongly believe that focusing on improving the skin's natural protective barrier is the best long-term approach to managing dandruff and seborrheic dermatitis. In this regard, finding and utilizing a dedicated co-wash regimen (ditching shampoo altogether) may hold significant potential (or at-least using conditioner only every second time).
Though I haven't personally tested the majority of the conditioners on this list, have been experimenting with custom formulations for the past couple of years. As my understanding of the formulating principles that go into a product have grown, it has become easier to make more accurate assumptions as to whether or not the usage outcome would be favorable or not.
If I was to try any of the options mentioned throughout this article, it would be as follows:
Head & Shoulders Moisture Care Dandruff Co-Wash Conditioner
Though it does contain some questionable components (such as color agents, fragrance, and more aggressive preservative system), the overall formula looks quite solid. It focuses on moisture retention and preservation of the natural scalp lipids may help to jumpstart more long-term stability and progress. And since it was designed and marketed specifically for use as a co-wash, it's likely to work well as a standalone hair cleanser.
Trader Joes Tea Tree Tingle Conditioner
This is actually a conditioner that I've tried before. Though my progress at that time was minimal, usage time was only limited to a few days. I have a hunch that allowing the scalp to adjust would have ultimately resulted in progress. Solely from the tea tree conditioner options that I've seen, this one has the most favorable ingredients list. Packaged at a very reasonable price. If I was to return to this conditioner, it would likely be as a co-wash.
Sulfur8 Medicated – Regular Formula
An appealing option as it strays away from the more popular anti-fungal agents. It's likely to be a bit heavy and difficult in terms of application, but it may be a good contender for combination with a more general conditioner. Mixing a small dab together with a more generous amount of regular conditioner, would reduce the irritation potential of the preservative used and allow for easier application. Nonetheless, a shampoo may be required to reduce the heavy residue that's likely to be left behind.
Alternatively, it may be worthwhile to try ditching anti-fungal agents altogether and strictly focus on repairing the scalp's own barrier. This would mean experimenting with more natural co-wash conditioners which are designed/developed to be as mild as possible. Keep in mind, going this route can be more challenging and progress is likely to be more difficult to achieve (anti-fungals have a more proven track record at this time).
Summary
The article was my attempt to provide a well-rounded discussion of what goes into the optimal anti-dandruff conditioner (seborrheic dermatitis conditioner) and which options may prove useful.
The key points introduced include:
The primary symptoms of dandruff include patches of irritated skin, dry flakes, inflammation, excessive itch sensation, heightened sebum production, and hair loss

Dandruff and seborrheic dermatitis are understood to be the same condition with key differences in areas affected (scalp versus other areas) and severity of the symptoms (in seborrheic dermatitis, the symptoms are more aggressive)

Malassezia yeasts feed on human sebum and are present on the skin of most humans; they are known to leave behind oleic free fatty acids which can degrade the skin's barrier function, cause irritation and result in dandruff

Conditioners are primarily designed to supplement the skin and hair with moisturizing elements lost during cleaning (with shampoo or other means)

Anti-dandruff conditioners are designed to reduce the level of malassezia activity (using active anti-fungals), which can result in a reduced amount of oleic free fatty acid and clearance of symptoms

Zinc pyrithione based conditioners are the most popular and widely available in North America; some popular options include Head and Shoulders Classic Clean, Equate (store brand), Nioxin, and Mizani

Sulfur is much less popular for scalp and hair usage, as it has a fairly strong odor and color; there are only two conditioners available, Sulfur8 and Dr. Robaina

Salicylic acid conditioners are aimed to break down the flakes and build-up associated with dandruff, but may not be robust enough to control symptoms altogether

Tea tree oil has been shown to possess significant anti-malassezia potential and has become popular in recent years to increase demand for natural products; the most famous tea tree oil conditioner is the Paul Mitchells, but less expensive alternatives exist

Some individuals have switched to solely using a conditioner to wash their hair, ditching shampoo altogether; this practice is also known as co-washing and may be a perfect fit for dandruff prone individuals as it better preserves barrier function

If you've been fighting dandruff for a significant amount of time and face hair loss, emphasis on ingredients which can stimulate hair growth may be worthwhile (discussion in a separate post)
In the end, hopefully, this article has been useful and relevant in your journey to finding the right anti-dandruff conditioner for you. Remember, never give up. If something is not working, switch things up and keep trying.
If you have any feedback on any of the topics discussed or have personal experience with the anti-dandruff conditioners mentioned (or a different approach altogether), please drop a comment below. By sharing our findings with one another, perhaps one day we will have a healthier scalp.